Here we look at
Tandem Bank
– a fully-regulated, app-based bank that connects to your existing current account and offers a range of 'green' finance options.
---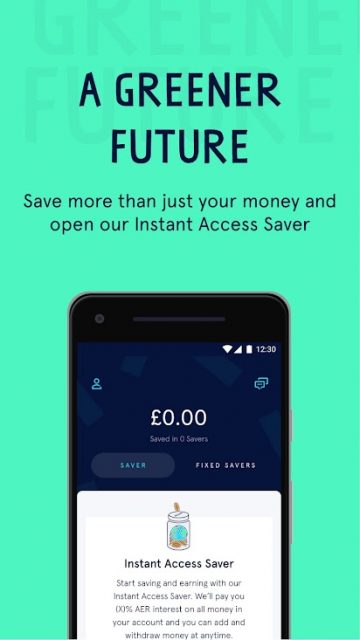 The deal
Founded in 2014 as a digital challenger bank to compete with the likes of Starling and Monzo, Tandem changed its focus last year towards becoming a "Good Green Bank."
Although it is a fully-regulated bank (having acquired Harrods Bank in 2017), Tandem doesn't offer its own current account. Instead, it connects to your existing one/s and offers a range of green finance options – including savings accounts, loans for home-energy saving improvements and mortgages – that are designed to work in 'tandem'.
Tandem's Green Instant Access Saver account currently has a very competitive (variable) interest rate of 0.65 per cent AER. If you're willing to lock your money away for a year, you could make an even better return with a one year fixed rate deal paying 1.35 per cent, which is more than double the market average rate of 0.66 per cent. The rate goes up further to 1.67 per cent for two years fixed and 1.76 per cent for three years.
Tandem, which bought green loans company Allium Lending Group last year, also provides loans to help reduce the carbon footprint of your home. In February 2021 it added mortgages to its offering, after buying private firm Bank and Client's £100 million client book, and has said it will launch a 'green mortgage.'
User-friendliness
The Tandem app is as simple to use as it gets, with no fancy graphics or unnecessary extra features.
Signing up is quick and easy, you just fill in a few personal details and give Tandem permission to link to your current account using Open Banking. This enables you to make payments into your savings account directly through the app. Tandem will also analyse your income and spending habits, and suggest ways that you could save more.
Tandem offers support on instant chat, email or by phone, with lines open Monday to Friday in office hours.
However, it has recently received criticism for its customer service. It has only a 2.9-star rating out of 5 on Trustpilot, with 44 per cent of 1,030 reviewers giving it an excellent mark and 34 per cent a bad one. People who disliked their service mention accounts getting blocked with their funds frozen, unresponsive customer service and technical problems with the app.
Is it safe?
Yes. Tandem Bank is covered by the Financial Services Compensation Scheme (FSCS), meaning you are covered for up to £85,000 if it was to go bust.
Sustainable option
Tandem says it is committed to becoming the UK's first digital green bank, enabling its customers "to understand and reduce the environmental impact of their finances and help to create a more sustainable planet."
However, exactly what makes it 'green' isn't totally clear. Its Green Instant Access Saver account was launched in February 2021 after a survey by Tandem showed that almost two thirds of Brits wanted to switch to an environmentally-friendly bank, but more than half admitted they didn't know where to go.
Tandem says that money saved with the Instant Access Saver will support its "lending initiatives and help to make the UK's  homes more sustainable and environmentally friendly," hinting that it will be used to fund its green loans and green mortgage when that is launched.
Unique selling points
Competitive savings accounts. Tandem's savings accounts offer very competitive interest rates, with its one-year fixed rate deal more than double the market average. Though bear in mind that cash savings interest rates are still generally very low at the moment.
'Auto saving'. Tandem will predict how much it thinks you can afford to set aside each month. You can also make deposits into your Tandem savings account whenever you like.
The plus points
Compatible with most banks. You can connect most bank accounts (including many challenger ones) to Tandem.
Simple design. The simple layout makes Tandem easy to use, making it suitable for those who aren't used to banking online.
Quick set-up. Download the app and get going in just a few minutes.
Save more. With Tandem keeping track of your everyday spending and calculating where and how you can save, it's likely that your money will go further.
Round-ups. Save as you spend by rounding up your transactions to the nearest pound and saving the change.
Any drawbacks?
No current account. While Tandem can look at and analyse your current accounts from other banks (and enables you to transfer money into your savings through the app), it does not offer one itself.
Lack of transparency. While Tandem says it is committed to becoming a "Good Green Bank," it could provide more information to customers on exactly how it plans to do this.
Other options
Similar digital banks worth considering are:
Starling (Starling doesn't offer a savings account, but does pay interest – albeit at a low rate – on its current account)
Similar ethical banks worth considering are:

---
---
Good With Money occasionally uses affiliate links to providers or offers, where relevant. This means that if you open an account or buy a service after following the link, Good With Money is paid a small referral fee. We choose our affiliates carefully and in line with the overall mission of the site.