From our life at home, to the way we travel, we're beginning to hear the term 'net zero' on an almost daily basis. And as world leaders meet in Glasgow over the next two weeks at the 2021 United Nations Climate Change Conference – AKA COP26 – we're certain to hear it a lot more.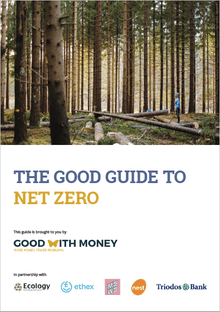 But what does net zero actually mean, and how does it affect you? Does net zero have anything to do with your finances? And, if so, are there really ways to 'net zero' your money?
In our new Good Guide to Net Zero, we explore some answers to these key questions and, together with our partners, offer you a range of solutions to help you apply the net zero concept to your financial life.
You'll discover how you can engage with net zero when it comes to your home, your energy, your bank account, your investments and your pension.
The guide includes expert articles on net zero pensions from Nest and Make My Money Matter, net zero banking from Triodos Bank, how you can apply net zero principles in and around your home from Ecology Building Society, and how innovative community projects can help the UK meet its net zero targets from Ethex.
Download your free copy now to start your own path to net zero.