This article is an excerpt from the Good Investment Review October 2021, from Square Mile Research and Good With Money.
---
The latest United Nation's Intergovernmental Panel on Climate Change (IPCC) report sounded an unequivocal warning that we must drastically curb the emissions causing global warming to avoid the catastrophic impacts of climate change.
While hopes are pinned on strong political action coming out of COP26, investors should welcome the Science Based Targets initiative (SBTi) which is driving positive private sector change.
SBTi enables companies to set emissions reduction targets aligned with the Paris Agreement and aims to standardise and validate decarbonisation plans though independent assessment in line with climate science. This is useful for investors as it provides comparability of temperature targets and a stamp of approval from experts, rather than allowing companies to set and mark their own homework when it comes to emissions reduction.
The SBTi's five-step process requires signatories to commit to, develop, submit for validation, communicate and then disclose progress towards their targets. Companies from over 50 sectors are working with SBTi, which provides industry-defined guidelines and tailored guidance for the highest emitting.
Strong momentum
Since launch in 2015 as a partnership between CDP, UN Global Compact, World Resources Institute and the WWF, SBTi has experienced tremendous growth. More than 1,000 businesses have signed-up, including over 40 per cent by weight of the MSCI World index which have either targets or commitments in place (figure 1 – below).
Nearly 60 per cent of the MSCI Europe index are on board and over 40 per cent of MSCI North America, where the rapid growth reflects the change in US political winds and President Biden's greener policies (figure 2 – below). Apple, Amazon, Walmart, Visa, AT&T and Pfizer are among those to have joined, with growth in further signatories expected to continue accelerating.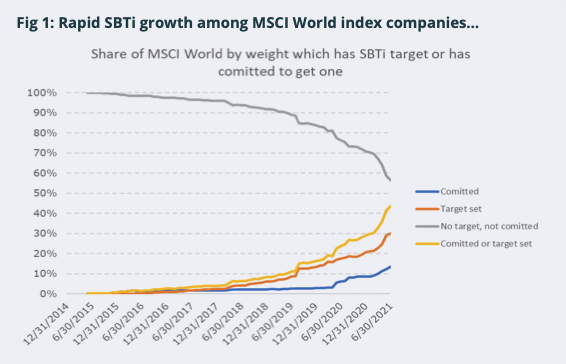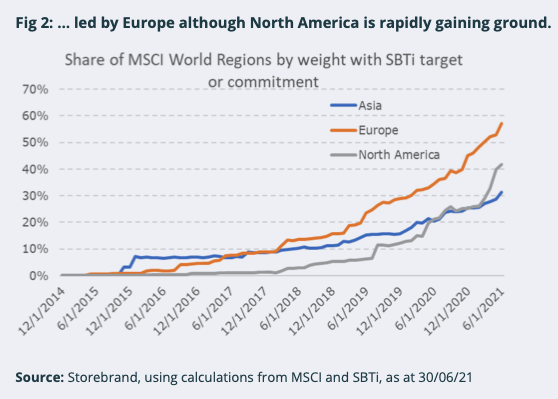 The best represented sectors are Consumer Staples, Consumer Discretionary and IT with over 50 per cent of companies by weight in each having SBTi targets or commitments, while Financial Services (15 per cent) and Energy (3 per cent) are the laggards. We await guidelines for Oil and Gas companies which are still to be finalised and hope that SBTi will maintain its high level of integrity for this difficult sector.
Guidance for financial institutions was published in April and included three methods for setting science-based targets. One is the SBTi Portfolio Coverage Approach whereby engagement targets are set "to have a portion of their investees set their own SBTi-approved science-based targets such that the financial institution is on a linear path to 100 percent portfolio coverage by 2040".
Storebrand has joined a CDP campaign to accelerate target adoption in the corporate sector which aligns with this goal. The good news for our planet is that the initiative is starting to bear fruit. In its 2020 Progress Report, SBTi reported that 338 companies with approved targets collectively cut their annual emissions by a quarter between 2015 and 2019, equivalent to the annual emissions of 78 coal-fired power plants.
Financial sense
Science-based targets are a key tool for investors to manage their portfolio's climate risk and have been one of the building blocks of Storebrand Global ESG Plus since November last year. The fund is around 10 per cent overweight in companies that have adopted SBTi, meaning over half of its assets are invested in stocks with verified emission reduction targets or commitments in place.
An example is Daimler (Mercedes Benz) which in November 2019 announced a commitment to halve absolute scope 1 and 2 GHG emissions by 2030 versus 2018 levels and reduce scope 3 GHG emissions by 42 per cent over the same period, consistent with achieving 1.5°C warming. It also plans to invest over €40 billion (£37 billion) into electric vehicles (EVs) by 2030 while from 2025 all newly launched vehicle architectures will be electric-only and customers will be able to choose an all-electric alternative for every model.
This not only benefits the environment but also makes financial sense. Since announcing its science-based targets, Daimler's shares have outperformed the STOXX Europe Auto Index by around 18 per cent while its position in our fund has climbed from 0.07 per cent of assets to 0.27 per cent (compared to an index weighting of 0.13 per cent).
We strongly believe that climate policy will increasingly impact companies' abilities to generate competitive returns and that those with rigorous targets are best positioned to benefit from the upsides of climate mitigation while avoiding the risks. With an increasing number signing up for scientific scrutiny of their climate plans, helping to cut emissions and boost financial returns, shouldn't you ask your fund manager how they are integrating SBTi into their investment decision-making?