Not all ethical insurance providers choose to offer car insurance, but those that do may offer extras such as charitable donations or the peace of mind that they aren't investing your insurance premiums in industries that harm the planet.
Here are some good choices:
In the world of insurance, which is traditionally driven by profit, Evergreen Insurance is an unusual entity. It will shop around to get you a good deal on your car insurance, then donate a portion of its commission (up to 25 per cent, depending on how long you've been with them) to a wildlife or nature charity.
The charities spend the money in different ways; rehabilitation of animals, educating people, reducing waste and creating environments for nature to thrive. You can choose where you want your money to go from a panel of 26 organisations.
As well as car insurance it also offers home, pet, life and gadget policies, and even offers commercial cover for fleets, shops and tradesmen.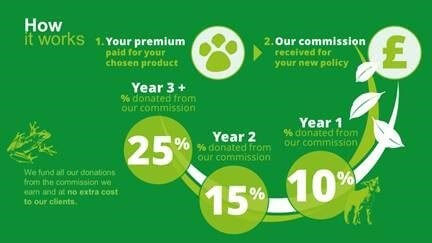 Founded in 2006, Pluginsure was the UK's first-ever website dedicated to insuring electric cars, vans and trucks.
Policies include insurance for your car's battery. The firm covers more than 30 makes of electric car and quotes are available by phone on 0330 043 1962. PlugInsure is most competitive for drivers aged over 30, who have accumulated several years of No Claims Bonus and live outside of London. It admits it cannot offer the lowest rates on the market for insuring a Tesla.
Allianz does not insure or invest its customers' premiums in coal-fired power plants or coal mines. Instead, it says it "strategically invests in low-carbon assets, including renewable energy, green buildings, and green bonds".
In 2021, Allianz took the top position in the Dow Jones Sustainability Index, which rates 125 insurance companies on their sustainability business practices.
It is also a founding member of the Net Zero Asset Owner Alliance. The Alliance is committed to tackling global warming and reducing the carbon emissions of their investment portfolios to net zero by 2050.
Zurich says it is "committed to being one of the most responsible and impactful businesses in the world". The firm measures the carbon impact of its investments, and will not insure or invest in either coal or tar sands projects or companies heavily involved in them.
It has also committed to investing $5 billion (£3.7 billion) in low-carbon technologies. Zurich is listed as a "leader" by Insure Our Future, a global coalition of NGOs and social movements that are pressuring insurance companies to get out of the coal, oil and gas business and support the transition to clean energy.
Aviva was the first UK financial services company to set a net zero target for 2040. It has already divested from the most carbon-intensive fossil fuels.
By 2025, Aviva will have invested £6 billion in green assets and £2.5 billion in low-carbon and renewable energy infrastructure. It will also have cut the carbon intensity of its investments by 25 per cent.