This International Women's Day, join us in the fight for #EqualWealth with our Good Guide to Investing for Women.
The latest HMRC figures reveal the gender ISA gap has doubled over the last decade to £3,000 – driven largely by the type of ISAs women choose. Around 4.4 million women save into a cash ISA compared to 3.5 million men, and only 785,000 women invest in a stocks and shares ISA compared to one million men.
The fact that, on average, stocks and shares tend to outperform cash over the long term, means women are losing out by sticking with cash. While men have an average ISA holding of £30,089, for women it's £27,098.
Barriers to investment for women
Sarah Coles, senior personal finance analyst at Hargreaves Lansdown, says the gender pay gap hampers women's ability to build a financial nest egg. She said: "On average, women earn less than men, and the more you earn, the more likely you are to have an investment ISA."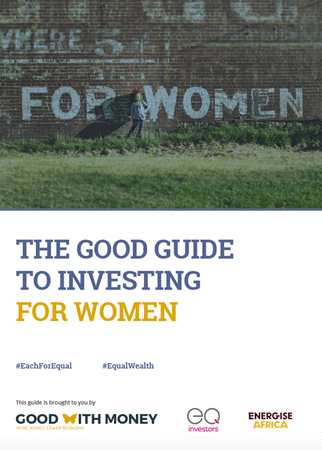 Another barrier to investment for women is their view of risk, as taking time time off work to raise children or care for elderly relatives means their incomes can be less secure. Sarah said: "It does certainly mean facing the risk that investments will rise and fall in value over the short term. However.. women tend to over-estimate the risk that investments will lose money over the long term – overlooking the fact that on average they tend to rise.
"They also underestimate the risk their cash ISA will lose value after inflation. With the best easy access ISA without restrictions currently paying 0.66 per cent, and inflation running at 5.5 per cent, this is a racing certainty."
Meanwhile, a separate study by AJ Bell suggests the overall gender investment gap stands at as much as £56,000 on average. Danni Hewson, a financial analyst for AJ Bell, said a lack of positive female influencers when it comes to financial habits could be contributing to this.
She said: "A lack of disposable income is cited by women as the reason they don't save more, but a good number say they just don't understand or don't know where to start which is why having more visible, obvious, celebrated role models is really important and clearly missing from most women's lives."
Taking action
The pandemic and the personal financial crisis it caused, followed by the huge hike in the cost of living and uncertainty of world events, throws the need for financial security into sharp focus. With women still earning less than men and living longer, it is REALLY important for them to get into investing, whether that's adding more to stocks and shares ISA, Lifetime ISA, or a workplace pension.
Investing can have a life-changing effect on our savings and – when done in the right kind of funds and projects – can also help protect our planet for our children and theirs after that.
So, who is for #EqualWealth?
Grab a cuppa and read the guide – sponsored by EQ Investors and Energise Africa – TODAY.