Edit: In March 2023, Clim8 announced that it is closing down. It will no longer be taking on new customers and will be available to existing customers until May 2023. 
Here we look at Clim8 – an app that enables investors (even those with zero experience) to put their money to work in solutions to climate change while aiming for a good financial return.
---

The deal
Mobile app Clim8, which launched in April 2021, makes it simple for anyone to invest their money in publicly-listed businesses that are actively helping to tackle the climate crisis and bring about positive change.
Investments through the app span six climate-friendly 'megatrends': Circular Economy, Sustainable Food, Water Systems, Green Energy, Clean Mobility and Climate Tech.
The long-term mission for Clim8 is to move billions of pounds of investments into clean energy and truly green, sustainable companies. Founder and CEO Duncan Grierson told Good With Money: "Ultimately, I want hundreds of thousands of users on the platform getting good returns and feeling good about making an impact."
User-friendliness
Clim8 is incredibly easy to use, even if you have no previous experience with investing. Download the app on your phone in a few seconds and sign up by entering your email address (currently it is only available to UK citizens).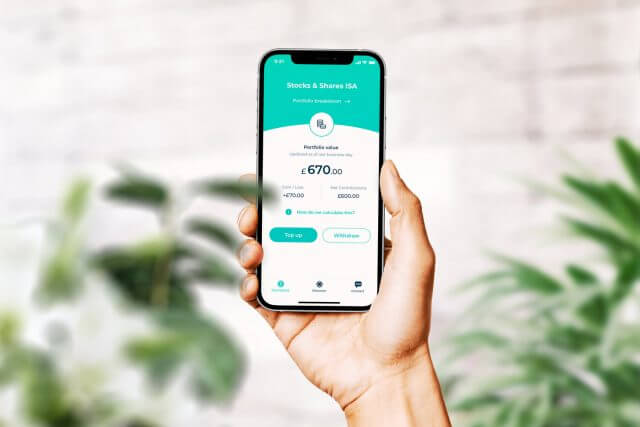 You will be asked what level of risk you feel comfortable with – 'Cautious', 'Balanced' or 'Adventurous'. Click through and you'll be shown a typical breakdown of that portfolio. This includes what percentage of your money will be put into shares, fixed income and cash investments. You'll also see the portfolio's performance over the previous 12 months set against a benchmark figure to put it into perspective.
You can learn more about what all this means in Clim8's handy factsheets that include graphs, charts, and explanations of investing terms, before you go ahead.
The app is transparent about where your money will be invested, showing examples of the companies that will be in your portfolio.
Lastly, you'll see the fees for your investment, which is currently the same across all three portfolios (see below).
Once you've chosen your portfolio, you'll need to decide which account you want to hold it in – a Stocks and Shares ISA (which lets you invest up to £20,000 a year tax-free) or, if you've used up your ISA allowance for the year, a General Investment Accounts (GIA). Clim8 will soon also be offering a Junior ISA (JISA), which allows you to save up to £9,000 per year tax free on behalf of a child.
Once you've completed a suitability questionnaire (to ensure investing is right for your financial situation), you'll be asked to enter your personal details and set up payment.
---
Top 11 platforms for a green stocks and shares ISA
---
Sustainable investing option
Clim8 will only invest in companies that are actively working to tackle climate change so you can be confident that your money is being used to make a positive impact on the environment and society at the same time as aiming for a good financial return.
Unique selling points
Clim8 is an easy way for investors of any age or level of experience to put their money exclusively into companies that are making a positive impact on climate change.
A clever impact calculator shows you how much Co2 has been saved and how much clean energy has been generated through your investments.
The plus points
Simple and quick to set up – start investing in just a few minutes.
Invest in solutions to climate change to help create a more sustainable world.
Portfolios are actively managed. This means an investment manager actively chooses where to invest your money in order to meet the portfolio's sustainability goals and achieve maximum returns.
Clim8 is transparent about the companies it invests in, giving detailed information on the holdings in your portfolio as well as performance.
Low minimum investment of £25.
The ability to move existing ISAs into your Clim8 account.
Clim8 will soon be launching a JISA so you can save for your child/ren's future and the planet's.
Any drawbacks?
Clim8 is currently only available on a mobile app, so you'll need to feel comfortable managing your investments through your phone.
Cost of use
Clim8 has an annual management fee of 0.6 per cent. You will also need to pay a portfolio fee, which ranges from 0.35 to 0.50 per cent.
How do these costs compare to competitors?
Online investment platform The Big Exchange, co-founded by the Big Issue, offers a new climate fund – the MACS Fund. The platform fee is 0.25 per cent and there is an added fee to the fund manager of between 0.8 per cent and 1.8 per cent per year.
Mobile-only app CIRCA5000, which offers positive impact (but passive – learn more here) investments, charges a flat fee of £1 a month.
Other options

Risk warning: With investing, your capital is at risk. Past performance is not a reliable indicator of future performance.