Update November 2022: Novus has decided to close its customer-facing business in favour of working directly with financial institutions.
Here we look at
Novus
– a new positive impact banking and lifestyle app that promises to turn your everyday spending into good. 
The deal

Novus is a brand new digital banking and lifestyle app that helps you make a measurable positive impact on the world through your everyday spending.
The app is available to download for free for Android or iOs. It offers the usual digital banking facilities including a Visa debit card and mobile banking app where you can see transactions, set up payments, and view spending insights.
But what really sets Novus apart from the digital banking crowd is that for every payment you make on your card, you earn "impact coins." These coins can be used to support a range of causes including ocean conservation, education, hunger alleviation and reforestation.
Whilst other banks reward their customers with points to buy more 'stuff', Novus helps consumers turn their everyday spending habits into a force for good
Novus also tracks the carbon emissions of each of your payments in real time, so you can see which areas of your lifestyle are contributing most to your individual carbon footprint. You can then choose to offset your emissions through environmental projects (which all meet strict industry standards) available on the app.
You can boost the positive impact of your spending even further by earning cash back rewards (which can be converted into impact if you wish) and impact coins when you shop sustainably through Novus' range of 100+ ethical partner brands.
Co-founder and CEO of Novus, Hristian Nedyalkov, said: "Whilst other banks reward their customers with points to buy more 'stuff', Novus helps consumers turn their everyday spending habits into a force for good, by giving back to social and environmental causes every time someone 'taps' their Novus card – whether that's helping fund meals or education for those in need, empowering women, cleaning the ocean and so much more."
User-friendliness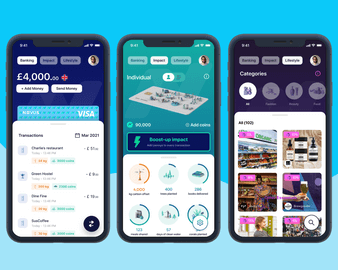 Once you've downloaded the app, you'll need to provide some basic details to prove your identity. Then you can order your debit card and start making an impact as you spend. You can link any other bank accounts you have to the app so you can view and manage your finances in one place.
The app itself is very simple to use. There are three main tabs; Banking, Impact and Lifestyle. Banking is straightforward and currently provides basic actions such as viewing your transaction history and making payments.
Where Novus gets exciting is the Impact section. Here, you can see the exact positive impact your transactions have made including the number of books delivered, period packs delivered, trees planted, meals shared, corals planted and turtles saved. You can view both your individual impact, and that of the Novus community as a whole.
You have the option to boost your impact by any amount, and choose exactly where it goes to. You can also see your carbon offset amount.
Under the Lifestyle tab, you'll find a range of ethical beauty, fashion, food and lifestyle retailers and how much cash back you've earned from your purchases.
Is it safe?
Novus is approved by the Financial Conduct Authority. However, because its debit card is considered to be an "e-card" it is not covered by the Financial Services Compensation Scheme (FSCS). Under this, your money would be protected up to £85,000.
With Novus, your funds are held in a separate "safeguarding" account via PayrNet. Neither Novus or PayrNet can use your funds for any other purpose, including if either company became insolvent.
Sustainable option
In January 2022, Novus became the UK's first B Corp certified digital banking app. This means that it meets high standards of social and environmental performance, transparency and accountability. It's an impressive achievement for a company that's less than a year old and newly launched.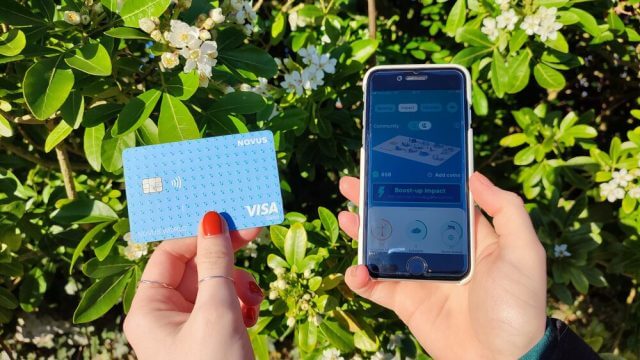 Novus has worked hard to make the positive impact of its product as tangible and transparent as possible. It has developed a network of global non-profit organisations operating successfully across a wide range of social and environmental sectors. These include Coralive.org, Solar Aid, Seeturtles.org, charity:water and the Against Malaria Foundation.
It says on its website: "They must be able to report to us in clear "impact-to-£" ratios. This enables us to communicate impact to our members in tangible terms (i.e. number of meals shared, number of trees planted, pounds of plastic cleaned from the ocean, number of books donated, etc.)." From the app, you can see information about each cause alongside the impact you have created for them.
Novus says it donates "the equivalent of five per cent of revenues to charitable partners each year." When you join the waitlist, it will plant a tree on your behalf.
Interestingly, nearly half of Novus's customers to date have never used a digital bank account before, so its 'doing good with your money' feature appears to be reaching the parts of the high street banks' customer bases that other challengers have failed to reach.
Unique selling points
Make a positive impact with every payment. Novus makes it easy for your everyday actions, like buying groceries or paying bills, to make a difference to bigger social and environmental issues such as climate change and social inequality. And it doesn't cost you anything.
Choose your impact. You can allocate your impact to the causes you care about most. For example, if you care about preserving oceans, you can allocate all of your impact towards retrieving plastic from them.
Track and offset your carbon footprint. Novus estimates the carbon emissions of each of your payments, based on the merchant, industry, location and transaction amount. You can choose to offset this through one of its partner impact projects.
Sustainable marketplace. You can boost the impact of your transactions by buying directly from ethical brand partners in the in-app marketplace. This will also earn you cash-back, which you can keep or convert into further impact for your chosen causes.
Boost-up option. Novus gives you the option to further boost the impact of each payment you make by an extra 1p, 2p, 10p or more.
---
Check the positive impact your weekly and monthly outgoings would have with Novus on this Impact Calculator.
---
The plus points
Connect everyday spending with impact. Novus aims to be a "Super App" for the conscious consumer where every interaction contributes to a better world.
Digital banking benefits. Novus comes with all the basic plus points of a digital app-based bank, such as 24/7 access, spending insights and savings pots.
Open Banking. Connect your accounts and manage all your finances from within the app.
Apple Pay. Novus is registered with Apple Pay for fast instant payments.
Any drawbacks?
No FSCS protection. Because the Novus debit card is considered to be an "e-card" it is not covered by the Financial Services Compensation Scheme (FSCS). With digital banks that are covered by the FSCS, your money is protected up to £85,000.
No track record. Novus is newly launched, so doesn't have a proven track record/reviews from current customers.
No overdraft or foreign payments. There is currently no overdraft facility and it's not possible to send payments abroad or use your card overseas. Therefore you'd probably need to keep another current account, at least for now.
Cost of use
Novus is completely free to use for the customer. The company currently makes money through commissions from brand partners, carbon offsetting margins and an interchange fee (fees a retailer must pay whenever a customer uses a credit or debit card to make a purchase from their store).
How do these costs compare to competitors?
Starling doesn't charge a monthly fee and is free to use for basic transactions and banking services. An arranged overdraft comes with interest at 15 per cent, 25 per cent or 35 per cent EAR (variable) based on your credit score.
With Monzo, card payments are (mostly) free in the UK and abroad. There is an optional overdraft of up to £500 that customers can activate in the app. Monzo charges an interest rate of 19 per cent, 29 per cent or 39 per cent EAR depending on your credit score.
Revolut offers free ATM withdrawals of up to £200 per month with a two per cent fee after this. However you can choose to pay a fee each month (£6.99 or £12.99) for additional benefits including unlimited free cash withdrawals. It doesn't have an overdraft facility so if a purchase exceeds your available funds the transaction will be declined.
Other options
Similar app-based banks worth considering are: