Here we look at MotherTree – the 'world's first' carbon calculator for your money that also helps you switch to greener banks and pension providers. 

The deal
MotherTree is a free online service that calculates your money's carbon footprint and helps you switch to a greener way to save. It shows you the carbon impact your personal bank account/s and pension/s are making (based on where your money is being invested by your providers), and then connects you with trusted, FSCS-protected greener alternatives.
The name 'MotherTree' is inspired by scientist Suzanne Simard, who discovered that trees can communicate with each other and even share nutrients. The mother trees, the oldest and largest trees, share the most nutrients while protecting the smaller trees from storms and disease. MotherTree says its mission is to "share great companies with our members that will help create a stronger, greener society".
User-friendliness
MotherTree aims to "make it effortless" to make greener choices with your money, and the site reflects this in how quick and easy it is to use.  
You start by answering a few simple questions to determine how planet-friendly – or not – the money you have in any UK bank accounts (including current and savings accounts) and pensions is.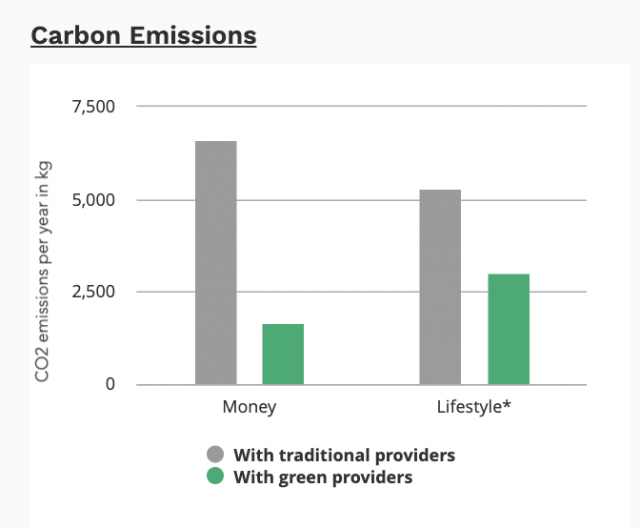 You'll need to input the details of your current provider/s and the approximate balance of your account/s into the MotherTree calculator. Then comes the really interesting bit. MotherTree will show you how many tonnes of carbon your money is producing each year.
To make this number more relatable, it's also converted into the equivalent number of flights between London and Rome. 
A simple bar chart shows the separate carbon impact of your bank accounts and your pensions, and you'll see what percentage you could reduce them by if you switched to greener providers. You can find out more about how MotherTree calculates the carbon footprint of your money here.
MotherTree highlights that making greener choices does not need to mean sacrificing profit. Its research, displayed in a graph alongside your results, shows that over the five years to 2021, sustainable funds made 13.9 per cent more than their traditional peers on average.
After the shock of seeing the carbon impact your money is making on the planet, you then have the option to change it for the better. MotherTree lists FSCS-approved, greener bank and pension providers including how much lower your money's carbon footprint would be with each, as well as key interest rates and charges.
Sustainability credentials
MotherTree recommends banks and pension providers based on three criteria:
Their carbon footprint

. This must be below 0.1 tonnes of CO2 for every £1,000 invested.

Their customer service

. They must have impeccable customer service based on

Which?

and

Ethical Consumer

ratings.

Their transparency

. They must disclose where their investments are going, and have no investments in fossil fuels.
Among the recommended current and savings account providers are Good With Money 'Good Egg' companies Ecology Building Society and Triodos Bank. Others include Nationwide Building Society and digital bank Monzo. For pensions, MotherTree recommends Good Egg firms Path Financial and PensionBee, as well as Mindful Wealth. 
---
Find out more about our Good Egg companies
---
Unique selling points
Free money carbon calculator.

MotherTree makes it quick and easy to see the impact your savings and investments are having on the planet, for free.

Helps you take meaningful action.

This is what we love. Once you've seen your money's carbon footprint you can DO something about it, by switching to recommended greener providers.

Finance is just the start.

MotherTree is starting with the area that can make the most positive impact – your money – and plans to eventually help you choose greener options in every part of life. 
---
Discover your money's carbon footprint (and do something about it) on MotherTree here
---
The plus points
It does the research for you.

Most of us don't have time to work out the carbon impact of our money. MotherTree takes the legwork out of this, making it quick and painless to change your money for good. You can also see at a glance what switching to a greener provider would mean for you – both in terms of the carbon saved and any differences in interest rates and fees.

Make a powerful change for you and the planet in minutes.

In a couple of minutes you can open a bank account with a provider that does not invest in fossil fuels, gives you great customer service, and protects your money.
Any drawbacks?
MotherTree currently only covers bank accounts (savings and current accounts) and pensions. However, it has plans to expand this to include other financial products such as mortgages and insurance.
Cost of use
MotherTree is completely free to use. When you take out an account through the site, your new provider pays MotherTree a small amount. MotherTree says it prioritises the greenest banks ahead of profit, and therefore will never promote a commission-paying provider above a greener option. 
Other options
MotherTree is currently the only service that calculates your money's carbon footprint and helps you switch to greener bank accounts and pensions. Other useful money-related carbon calculators include:
This review is in partnership with MotherTree