This article is from the Good Guide to Going Green at Home, available to download for free here
---
With energy prices continuing to rise, many households are facing a difficult winter ahead. During summer and early autumn, we can often get away with running the heating less and keeping lights switched off, but this picture changes as the colder months arrive.
Even at the beginning of 2022 – before the energy price hikes in April – more than a third (37 per cent) of Britons reported that they cannot afford to heat their home to a level where they are comfortably warm when it is very cold outside, with one in 50 saying that they are unable to afford to heat their home at all.
A persistently cold, damp living environment can have serious consequences for both a building and its inhabitants. It also has a collective impact on the UK: £1.3 billion is spent each year on health services in England to treat illnesses caused by cold homes and ONS figures indicate that mortalities resulting from the effects of fuel poverty are on the rise. So, how do we go about reversing this devastating trend to ensure that everyone can afford to keep warm and healthy at home?
Better homes through energy-efficient renovations
At Ecology, we have long supported people to improve the energy efficiency of their homes so that they can achieve a more comfortable, affordable, and sustainable living environment.
The UK's homes are notoriously leaky when it comes to heat, with many properties losing vast amounts of warmth through windows, doors, floors, walls and roofs; our mortgage customers frequently cite this as a leading motivation in their decision to undertake an energy-efficient renovation.
To enable this, we provide specialist mortgages that help them to cover the initial costs of energy improvements – like putting in insulation or installing a renewable energy system – and to support people to make their homes energy efficient and affordable in the long term. We do this through our range of award-winning 'C-Change' mortgages, which incentivise energy efficiency through mortgage pricing based on a property's final energy performance or environmental impact.
We are now beginning to see our approach replicated by some of the high street lenders. As an organisation that exists to deliver positive change, we consider it our responsibility to keep innovating so that we can develop finance that meets the needs of today's homeowners and supports the UK's journey to net zero. With this in mind, we have recently enhanced our C-Change range, developing new categories for homes that are built to the highest energy efficiency ratings.
Energy efficiency for every home – old or new
The idea of an energy-efficient home is often associated with slick high-end new builds that have been designed around sustainability principles from the outset. This can be discouraging for those of us who want a low-energy home but live in an older property built before present- day energy-efficiency considerations or in a newer building with a poor EPC rating. Many of our borrowers stand as inspiring examples for those facing such a situation, having achieved superb levels of energy efficiency by carrying out a renovation on their existing home.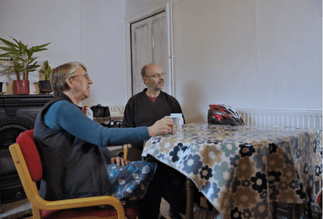 Jan and Stuart are two such people, having used an Ecology mortgage to transform their Victorian terraced home in Lancaster from an EPC level D (the England and Wales average) to a level B. Internal wall insulation, an air source heat pump, integrated roof-top solar photovoltaic panels and battery storage, combined with the installation of new radiators and pipework, allow the couple to enjoy a comfortable indoor temperature throughout their home.
Additionally, any surplus electricity generated via the solar panels is stored by a battery, helping to reduce their overall energy bill. Over time, Jan and Stuart expect that they will reap the benefits of the cost savings resulting from the improved energy efficiency of their home.
Expanding the support for home renovators
Jan and Stuart's inspiring project shows that with research and imagination it is possible to navigate the challenges of improving and upgrading a traditional older property to create a comfortable, energy-efficient and sustainable home.
There is progress being made in supporting more homeowners to follow this example, with some mainstream lenders beginning to wake up to the need to recognise and support energy- efficient living and the Government offering VAT relief on energy-saving home improvements and certain renewable heating technologies until 2027.
At Ecology, we are continuing to push for a national retrofit strategy to support all homeowners – including those on the lowest incomes – to make their homes more efficient and are working with networks across the finance sector so that we can share our expertise on lending for sustainable properties. We believe that everyone has the right to a warm, comfortable home and hope that stories from people like Jan and Stuart can inspire others to see that energy-efficient living can become a reality, whatever type of home you have.