The Earth is experiencing its largest loss of life since the dinosaurs were wiped out, according to scientists, and it's being driven by human behaviour. How we farm, pollute, drive, heat our homes, and consume is far beyond what the natural resources of our planet can sustainably provide.
This week, global leaders are gathering at COP15 in Montreal, Canada, to agree a crucial deal to protect the planet's biodiversity and plot a path to living within planetary boundaries.
The Aichi biodiversity targets were the last agreed in Nagoya, Japan, in 2010. Governments pledged then to halve the loss of natural habitats and expand nature reserves to 17 per cent of the world's land area by 2020, among other targets – and they've failed on every count.
The financial industry has a crucial role to play in helping to turn the tide on biodiversity loss by shifting investment away from businesses and projects that destroy the natural environment, and towards those that are regenerating it.
Just as climate change has caught the attention of investors in recent years, the intertwined issue of biodiversity loss is also becoming a top priority.
Here we look at three Good funds that are investing in biodiversity.
1. UBAM Biodiversity Restoration fund
This specialist global equity impact portfolio, launched in December 2021 by Union Bancaire Privée, aims to deliver positive returns by investing in businesses that are enhancing the protection and restoration of the natural world. The fund – available through The Big Exchange (a Good With Money 'Good Egg' firm) – invests in so-called biodiversity 'fixers.' These are:
Companies that are reducing biodiversity loss through their core activities
Companies that have huge supply chains and are taking their impact on biodiversity and their responsibility seriously.
With the latter, UBAM looks to make a positive impact through engagement; with the help of its NGO partners it helps to set goals for the companies and works with them as investors to achieve them.
Cam Bourne, Head of Product at The Big Exchange, said: "Over the last year, when speaking to our Community and asking for feedback, the area in which they want The Big Exchange to provide accessible, rated investments is in funds which are investing in solutions to biodiversity loss and ecosystem degradation. Over 75 per cent of responders selected this as their key focus compared to 58 per cent choosing calling time on fossil fuels.
"The UBAM Biodiversity Restoration fund is awarded a Gold Medal on The Big Exchange. Its unique approach to finding and engaging with companies with the aim to commercially regenerate land through collaboration is a great story for investors.
"What's more, UBAM will invest 25 per cent of its management fee with two world-leading conservation organisations: the Cambridge Conservation Initiative (CCI) and the Peace Parks Foundation for their work in conservation and policy-making."
---
Top sustainable investment platforms in 2022
---
2. Federated Hermes Biodiversity Equity Fund
The Biodiversity Equity Fund, launched by Federated Hermes in March 2022, invests in a concentrated portfolio of best in class companies, which help to preserve or replenish biodiversity. Its investment themes include land pollution, marine exploitation, sustainable living, climate change, farming and deforestation.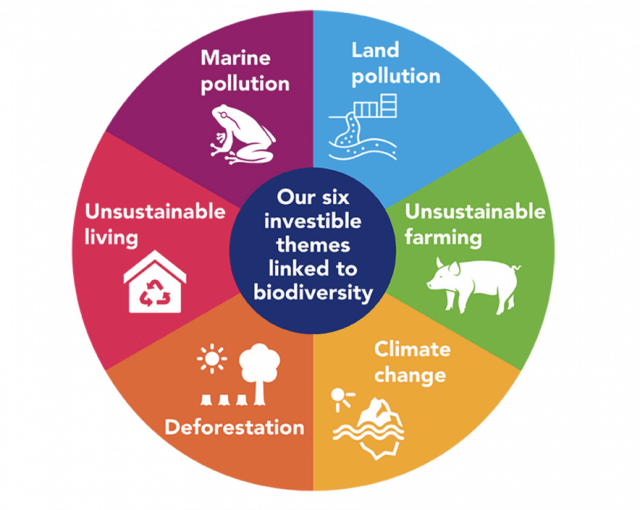 Federated Hermes measures and reports the positive net impacts of its portfolio such as clean energy megawatt hours generated, megatons of waste recycled, and hectares of forest protected.
Ingrid Kukuljan, Head of Impact and Sustainable Investing at Federated Hermes Limited said: "The biodiversity crisis, which has largely been ignored by investors and corporates thus far, is about to take centre stage.
"Following COP15 in Montreal in December, we believe 2023 will put the deserved spotlight on nature and biodiversity. The invisible crisis has become an everyday occurrence, showing its fangs through fires, droughts, floods and is forcing the society, policymakers, corporates and investors to wake up to the fact that we are beyond the tipping point.
"The negative impacts of biodiversity loss pose a systemic risk to the global economy and we must stop taking nature's permanence for granted. We believe now is a crucial moment to invest in the companies that help mitigate biodiversity decline."
---
Top 10 ethical financial advisers in 2022
---
3. Fidelity Biodiversity Equity Fund
Launched in September 2022, the Sustainable Biodiversity Fund from Fidelity invests in a global equity portfolio of companies helping to preserve biodiversity.
It aims to bring capital growth by contributing to the protection of biodiversity in two ways. Firstly, the Fund invests in companies that are providing 'solutions' to reducing biodiversity loss.
Secondly, it invests in biodiversity 'best-in-class' companies. These are companies that are either market-leading in terms of their own operational efforts to minimise impact on biodiversity, or those that are developing new solutions to address biodiversity loss.
The Fund's portfolio manager Velislava Dimitrova said: "In the past, market participants have taken nature for granted, viewing this capital stock as a perpetual resource. But evidence shows that nature continues to degrade as a result of human activity.
"The world is now waking up to the urgent threat to biodiversity and natural capital. Biodiversity investment solutions are emerging as the largest investment megatrend in our generation and provides opportunities for investors . The theme is at an inflection point, and belatedly transforming from a neglected risk into a top priority."
Risk warning: Investing involves risk. The value of your investments and the income from them can go down as well as up. You may not get back the full amount you invested. Information on past performance is not a reliable indicator for future performance.