Famous names including Stephen Fry, Emma Thompson and Mark Rylance have joined activists, businesses and charities in calling on the UK's Big Five banks to stop financing new oil, gas and coal expansion.
Make My Money Matter (MMMM), a campaign led by Love Actually director Richard Curtis, has penned an open letter to the chief executives of HSBC, Barclays, Santander, NatWest and Lloyds to urge the banks to stop their harmful practices.
Curtis said the aim is to raise awareness of "the dangerous relationship between UK banks and the fossil fuel industry". Members of the public are being invited to join forces with celebrities, politicians, campaigners and business leaders by signing the open letter.
---
We've signed the letter – you can sign it here
---
The call comes days after research from Reclaim Finance revealed that banks and finance institutions that had signed up to net-zero pledges were STILL investing heavily in fossil fuels.
MMMM references a report in February 2022 from the campaign group ShareAction, which claimed that in 2021 alone, HSBC, Barclays, Santander, NatWest and Lloyds, between them provided almost $16 billion (£12.98 billion) in finance to the top 50 oil and gas expanders. This, says MMMM, was "despite clear guidance from the International Energy Agency that we cannot develop new oil and gas fields if we are to limit global warming to below 1.5 degrees".
Celebrity signatories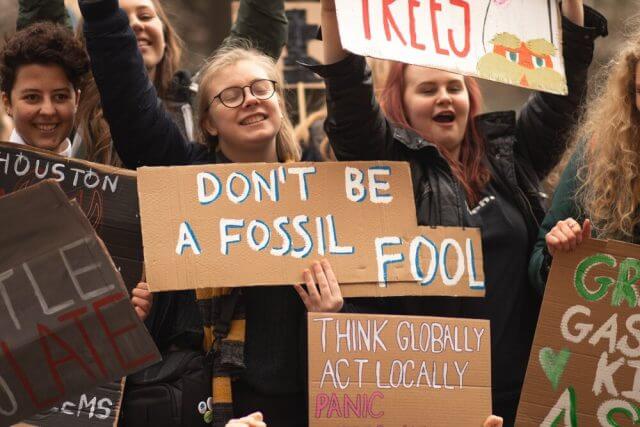 Signatories to the letter – which also include actor Aisling Bea, climate change leader Christiana Figueres, MP Caroline Lucas, musician Brian Eno, TV presenter Chris Packham and Dragon's Den investor Deborah Meaden – pledge not only to campaign for change at the Big Five but to also switch to a bank that does not finance fossil fuel expansion if they have not done so already.
You can add your weight to the campaign by also signing the letter and switching to a greener bank.
Richard Curtis, filmmaker and founder of MMMM, said:"We hope this weird and wonderful coalition of activists and actors, businesses and brands, celebrities and climate champions, puts a fire under the banks to stop them setting fire to the world. Because it's clear that new oil and gas fields are not only hugely damaging to the planet, but they're also wildly unpopular with the public.
"It's time for the banks to listen to the scientists who are telling us over and over again how urgently we need to act – to respond to their customers who want their money to matter – and to mobilise the billions at their disposal in defence of the planet, not in support of its destruction."
---
Top 6 ethical current accounts
---
Big Five funnel billions into fossil fuels
Between 2016 and 2021, HSBC, Barclays, Santander, NatWest and Lloyds funnelled almost $368 billion (£298 billion) towards the fossil fuel industry. In the same time period, the Big Five financed the 50 largest oil and gas expanders to the tune of $141 billion.
Almost one third (29 per cent) of customers surveyed at the Big Five high street banks by MMMM in October 2022 said that they would switch if they discovered that their bank was financing fossil fuel expansion. The vast majority (86 per cent) said they do not think their bank is doing enough to tackle the climate crisis.
While acknowledging that fossil fuels will be required over the coming years as the world transitions to a low carbon economy, Make My Money Matter's open letter calls on UK banks to take a three-step approach to stopping financing new fossil fuel expansion:
Stop directly financing new fossil fuel expansion activity.
Put existing clients on notice that they must stop their expansion plans or face financing consequences.
End relationships with those clients who do not stop fossil fuel expansion.
---
Top-paying sustainable savings accounts
---
A long way to go
While there have recently been some welcome new announcements on stopping direct finance for new fossil fuel expansion from HSBC and Lloyds, there is a long way to go.
MMMM states that for example, Barclays – Europe's worst offender for fossil fuel finance – has yet to set any policy related to stopping conventional oil and gas expansion. Worse, it says, despite their recent pledges on fossil fuel expansion, HSBC was this month found to have provided $340 million (£275 million) to a company opening a new coal mine in Germany, a project that saw an entire village bulldozed.
Despite the billons UK high street banks provide to companies driving climate change, the majority (77 per cent) of customers surveyed by MMMM have no idea their bank is financing fossil fuel expansion.
Individuals can join forces with celebrities, politicians and NGOs alike by signing the open letter to the CEOs of the Big Five UK high street banks themselves here.
You can find the full list of signatories here, and the current landscape at the Big Five banks below.
The fossil fuel investment rankings
| | | |
| --- | --- | --- |
| | Finance towards 50 oil & gas expanders* (2016 – 2021)  | Publicly committed to stop direct finance for new oil, coal and gas expansion |
| HSBC  | $59.1 billion (£47.95 billion) | YES |
| Barclays  | $48.3 billion (£39.19 billion) | NO |
| Santander  | $23.4 billion (£18.98 billion) | NO |
| Lloyds  | $5.9 billion (£4.79 billion) | YES |
| NatWest  | $4.4 billion (£3.57 billion) | NO |
*Findings taken from ShareAction's Oil & Gas Expansion Report