To celebrate International Women's Day 2023, we are publishing a new FREE Good Guide to Financial Wellbeing for Women.
Supported by EQ Investors, it shows you exactly what to do to achieve personal financial wellbeing – that's feeling confident, secure and in control of your own finances, both now and in the future.
Here's why:
Women are poorer than men. That's the harsh reality. 
This includes how much money we are paid, how much we have saved, how much we have invested, and how big our pension pots are. 
Last year in the UK, men were paid an average of 5.45 per cent more per hour than women and had DOUBLE the pension pot by retirement age. They also had £599 billion more invested than women – that's greater than the GDP of Switzerland!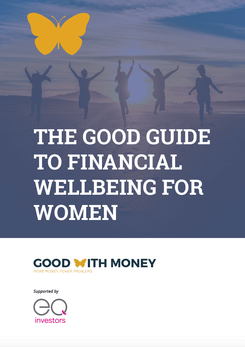 The reasons behind this gender wealth gap are complex but have a lot to do with industry and societal stereotypes, with men long considered the earners and keepers of money. 
A recent study by Starling Bank looked at photographs used in media articles about money and personal finances, and found that men and women were depicted very differently. While men were shown as being in control and making financial decisions, women were shown clutching piggy banks and counting pennies. 
Times are thankfully starting to change, but you don't have to wait! 
With women living longer than men and taking more time out of work to care for children and elderly relatives (meaning our money has to stretch much further), it is REALLY important that we take control of our own finances, and do it as early as possible. 
So, this International Women's Day, join us in making #FinancialWellbeing a new life goal.
Download your free guide here.