The latest Good Investment Review explores how responsible investment funds – those that make a positive impact on people and planet – are 'Doing good', 'Avoiding harm' and 'Leading change'.
The 2023 Review looks at how investors can compare not only a fund's financial performance, but also its ability to help solve the world's most pressing environmental and social challenges.
Square Mile Research, which publishes the Review, rates responsible funds against the three principles of its "3D Framework." These are:
Do Good – Investment in companies offering solutions to global, social and environmental challenges and evidence of impact
Avoid Harm – Avoidance of investment in companies making a significant, negative contribution to society and the environment and those exposed to controversies
Lead Change – Advocacy and engagement with investee companies both individually and through cooperation with other investors and change activists to encourage best practice and inform opinion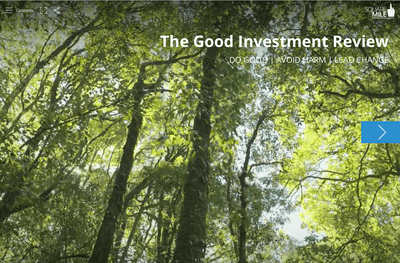 After challenging market conditions in 2022, the Review shows that the financial performance of responsible funds has started to pick up again in the last 12 months. They continue to do well over the longer term, in many cases outperforming their traditional peers on average over the last five years.
Jake Moeller, Senior Investment Consultant at Square Mile Research says: "2023 has so far been rosier for responsible investing. Inflationary pressures are starting to ease, which should start to signal the end of the current interest rate hiking cycle. While headwinds may persist over the short term, responsible funds should begin to benefit from the prevailing market conditions given their more growth-orientated, longer-term positioning."
The Review from Good With Money, Square Mile Research and The Big Exchange looks at the crucial role responsible investment funds play in the transition to a better, brighter future and why this makes them best placed to perform well in the longer term.
It includes essential commentary from key sponsors, including:
Good With Money: Unlocking the power of responsible investment
The Big Exchange: How to build a portfolio of funds
Aegon Asset Management: Incorporating climate change in fixed income
Baillie Gifford: Transformative investment: a new approach to a sustainable future
T. Rowe Price: Fostering change with impact investing
Wellington Management: How impact investors can support the provision of affordable housing
Liontrust: Investing in a low carbon future
M&G Investments: A framework for finding impactful companies with the potential to grow
Rathbones: Time for a change
Schroders:
Fidelity International: Taking the lead: Why we prefer engagement over exclusion
Pictet Asset Management: Why corporate engagement is an essential element of responsible investment
Schroders: How climate leaders can inspire change in other companies
Download your free Good Investment Review here.