How do you know if your money is good? The world of money can be a confusing place at the best of times but when you add in trying to navigate it sustainably, it can feel like a jungle.
Luckily the digital world moves at a fast pace; a host of new apps are making it quick and easy to find out if a bank, financial provider, or even your favourite supermarket product is ethical or sustainable, so you can make your money as good as you are.
Still, it can be hard to sort out the ethical wheat from the app store chaff. From positive impact investing apps and robo-advisers to the inside scoop on your bank's sustainability practices, here are the best green money apps out there (according to us).
The Big Exchange, The Big Issue's foray into sustainable investment, is a BIG step in the right direction for the financial world. Launched in 2021, it only lists funds that make a positive impact on the planet. It's the UK's first investment platform to actively rate funds for their positive impact before even letting them onto the site. This makes it easier for you to choose funds that are investing in companies creating solutions to combat the world's biggest challenges.
The platform is also beginner-friendly, which is a big plus point; those new to investing can pick a ready-made portfolio according to the level of risk they're most comfortable with and be safe in the knowledge that their money is working for them AND the planet.
The Big Exchange is on a mission to make investing accessible to anyone with savings. Therefore the minimum investment is among the lowest in the industry, at £25 per month or £100 as a lump sum. The annual fee is too, at 0.25 per cent.
---
Top sustainable investment platforms
---
Another 'Good Egg' company, Sugi enables you to track and compare the carbon footprint of your personal investments. The free app calculates the yearly carbon impact of individual investments as well as of a portfolio as a whole. Investors can easily see how they are doing by comparing these figures against industry benchmarks.
Sugi also provides carbon impact data for similar investments, helping investors to build a greener portfolio in line with their values.
Investors can link up their portfolios, including individual savings accounts (ISAs) and self-invested pensions (SIPPS), to the Sugi platform using open banking technology provided by Moneyhub.
---
Top 6 ethical current accounts
---

CIRCA5000 is an impact investing app with ethical portfolios aimed at young, tech-savvy, socially conscious investors. Co-founders Matt Latham and Tom McGillycuddy previously worked in the investment management industry and felt its overly complicated jargon shut 'ordinary' people out who might otherwise want to invest – and we agree!
The funds in its portfolios only include companies that have made it their mission to solve the world's biggest environmental and social challenges.
Investors can choose to put their cash into companies from five separate themes – green energy and technology, sustainable food and biodiversity, clean water and waste, social and economic empowerment, health and wellbeing – or a combination of all five for the less decisive, at a risk level they feel comfortable with.
Robo advisers are the go-to tool of the busy, online millennial generation and those who might not be able to afford a financial adviser. Wealthify is the best of the robo bunch when it comes to ethical options, offering five risk options ranging from cautions to adventurous. It also has a minimum investment of just £1, so gone are the days of excluding the less affluent from investing.
This easy, hassle-free investment platform is about as simple as investing gets, but it's not without its faults; be wary that passive investment platforms can screen blanket industries like arms and tobacco, but are less subtle about sustainability selection. Have a look at our article asking Can robo-advisers be ethical?
Giki (short for 'Get Involved, Know your Impact') is a B Corp company that helps you understand your carbon footprint and then find steps to reduce it.
Giki Badges is a shopping app that allows you to scan supermarket products to see how sustainable they are. You simply scan the barcode on the app, see which of 15 badges (covering sustainability, health and fairness) the product has, and check out the alternatives Giki offers.
Giki Zero is an online eco-planner that calculates the impact your individual lifestyle has on the planet, finds ways for you to reduce it and celebrates your successes along the way.
Giki Zero Pro helps businesses support their employees to reduce their carbon impact.
Switchit.green is on a mission is to pressure banks to change their investment policies to rapidly phase out fossil fuel financing by harnessing the power of individual action. The free platform makes switching to a green bank as simple and impactful as possible. You can see how your bank rates against its competitors for ethical standards, find out EXACTLY what it's been investing in behind your back, and choose a greener bank to switch to.
Similar to Switchit.green, Bank.green wants to encourage as many people as possible to move their money for good. Type in the name of your bank and you'll find out whether it is funding oil and gas extraction. You can then choose to switch your money to a greener alternative, and/or take the Bank.Green pledge not to fund fossil fuels.
Bank.Green says on its website: "We can't say it better than environmentalist Bill McKibben: 'Money is the oxygen on which the fire of global warming burns.' But don't wait for the fire department to turn up – join us!"
Olio helps you avoid buying new, by sharing and finding the items you need locally. Up to half of all food produced around the world is never eaten, says Olio, while one in nine of us are starving or malnourished. The app's goal is to help fight food waste by connecting those with leftover food to those who want it. Olio, which has seven million users worldwide, is helping to connect people with their communities, as well as save money.
From a loaf of bread that would have gone in the bin to a bag of barely worn newborn clothes, you can pick up a huge range of good quality food, for free, on the app. It not only helps those in need, it also helps those on a budget – instead of buying food from the supermarket, why not take it off someone else's hands for free.
If you want to have a savings account, insurance policy, investment fund or mortgage from companies that do the right thing, check out our Good Eggs.
The Good Egg Mark is only accreditation in the UK designed to make it easier to find providers that use finance to benefit people and planet, as well as offering a good deal for their customers. Companies that have earned one don't just SAY they make a positive difference, they can PROVE it.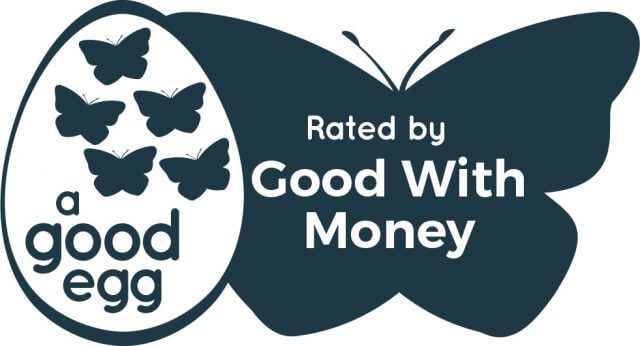 Risk warning: when you invest, your capital is at risk.