Buying organic, free range food, sustainably-sourced clothes and 100% renewable energy is all helpful stuff in the good fight against environmental destruction, but what happens to your money is worth a thought too.
According to new research from Charity Bank, the savings bank that says it has a 'mission to use money for good', 74 per cent of people don't know how the money they save with their bank is being used or invested, and 71 per cent would like their bank to make it clearer where their money is being invested.
It can often take huge campaigns from global organisations such as Greenpeace, for big banks such as HSBC to come clean about how they have been investing their savers' money. Greenpeace's recent victory in securing a commitment from HSBC to stop funding palm oil companies destroying forests and peatlands in Indonesia hit the headlines precisely because a growing number of banking customers are becoming increasingly concerned about how their money is being invested once deposited with their bank.

Charity Bank's research also reveals 56 per cent of people would like to be offered an ethical option when choosing a savings account and 61 per cent would consider opening a savings account that paid a fair rate of interest and lent money to charities and other good causes.
Patrick Crawford, Charity Bank's chief executive, said, "People don't know what banks do with their money but the findings tell us that there is an appetite to find out and that people would like their savings to be used for good causes.
"Wherever it's invested, money takes a journey. This might be around the globe, around the big banks or on the stock markets. Sometimes it does good along the way; sometimes it doesn't". (Watch this video from Aviva if you want to know where your money ends up).
Thanks to their responsible missions, money deposited with ethical banks such as Charity Bank and Triodos Bank doesn't fund organisations financing fracking or fossil fuels or deforestation, but is instead invested directly in charities, businesses and projects that benefit people across the UK.
Research from Triodos shows that the transition to a low carbon economy is the top priority for savers wanting to make a positive difference.  Forty seven per cent of savers say they would like their money to be used to help grow the renewable energy sector, while 41 per cent want to support energy efficiency.
SAVERS' GOOD MONEY PRIORITIES
NO.
ISSUE
%
1
Renewable energy
47
2
Energy efficiency
41
3
Social housing
41
4
Community/society groups
28
5
Human rights and labour rights
28
6
Urban regeneration
24
7
Sustainable Business
23
source: Triodos
How much interest?
Charity Bank's Ethical 33-Day Notice Cash ISA pays 0.90% Gross/AER and requires a minimum opening balance of £250, and has a 33-day notice period. Triodos Bank's Online Cash ISA pays 0.75% Gross/AER, requires a minimum deposit of £10 and also has a notice period of 33 days.
The rates are low, but then, so are cash savings rates across most of the savings market. If all you want is a safe place to store your money and you aren't bothered too much about the rate, these accounts are a no-brainer. Deposits are protected by the Financial Services Compensation Scheme.
And of course you don't have to eat up your ISA allowance by choosing a Cash ISA if you would prefer your full £15,240 (£20,000 from April), to go to stocks and shares. You won't pay tax in ordinary deposit accounts up to your personal allowance – which is £1,000 for basic rate taxpayers and £500 for higher rate. Charity Bank offers 1 and 3-year fixed rate accounts paying 1% and 1.3% respectively. Triodos offers 0.65% for its Online Saver Plus account, which is easy access.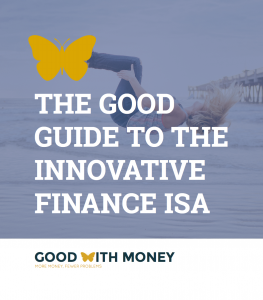 If you want to earn a little bit more of a return on your money, but still want to know where your money is going, you could consider an Innovative Finance ISA (download our free IFISA guide) with one of the more 'responsible' peer-to-peer platforms, such as Abundance, which offers investments in renewable energy projects, or Crowd2Fund which offers a good number of beneficial projects. Find out more in our IFISA guide.
And, if you're you're after potentially even greater returns – with more risk, naturally – then consider a Stocks and Shares ISA invested in a responsible fund, which offer investors a unique chance to make returns and make the world a better place at the same time.
The number of funds that invest according to Environmental, Social and Governance principles (ESG) is growing quickly. According to Julia Dreblow, founder of Fund Ecomarket, there are more than 80 ethical and sustainability-themed options available, with the funds these options relate to representing around 1.2% of the total UK retail funds invested. Importantly, there is no longer any meaningful difference between returns on a "responsible" fund and those from a mainstream, non-ESG fund. These values-based funds are available on most mainstream investment platforms, such as Selftrade or Nutmeg. Check out our guide to Stocks and Shares ISAs, launching soon.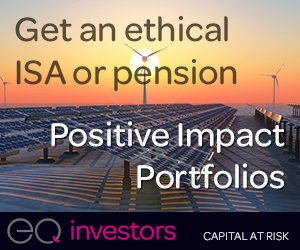 And, thanks to COP21 climate talks back in 2015 and the introduction of the UN Sustainable Development Goals (SDGs) in the same year, the number of companies that are aiming to achieve a net positive impact on the world is also increasing. Examples include Unilever and IKEA, but you can check out an app called Shape for some individual company rankings, although the app is still in development.
You can find out more about Charity Bank's campaign here.