The deadline to fill this tax year's ISA allowance is Wednesday, April 5.
It's a sense of urgency you will feel only if you have up to £15,240 in savings that you would like to re-home somewhere more profitable and not pay any tax on it.
But did you think of putting it somewhere more responsible too?
By responsible, we mean into funds or bonds, if you are going for the stocks and shares ISA option; or businesses, if you are choosing an IFISA, or deposits, if you are choosing a cash ISA, which have a positive impact on society, or the environment, or the jackpot: both.
Why invest responsibly?
If you've never thought about where your money is going before, then thinking about impact may seem like just one too many things to worry about. But these days, there is a wealth of opportunities to support economic activities that support, rather than destroy the world.
And the harsh reality is that if you don't actively choose to put your money somewhere more responsible, it will probably be supporting the bad stuff.
Three quarters of us use asset management services, according to ShareAction, even if we don't realise it, mostly through our pension funds.
Fossil fuel-based energy and commodities dominate global stock markets, which means that any money that goes into generic, bland funds is probably supporting the destructive stuff.
There is increasing recognition that the behaviour of large asset managers matters not only for pension savers and other individual investors but also for the health of the economy as a whole, for our environment and for the ethical performance of companies across the world.

ShareAction Asset Manager survey March 2017
Here is a table from the latest ShareAction survey listing the type of issues that demonstrate responsibility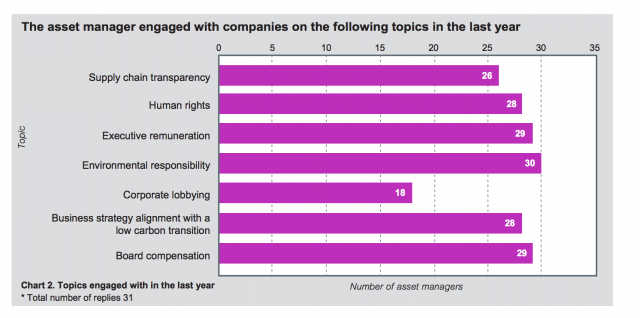 Want to be on the side of the goodies? Here are some ideas
First, check our new directory and select ISAs. The directory lists financial companies that are having a positive impact, one way or another.
If you want to invest in responsible funds through a stocks and shares ISA, one of the easiest ways to invest is through an investment platform, such as Hargreaves Lansdown, Charles Stanley Direct, Alliance Trust Savings (for high volume savings), AJ Bell or EQ Investors (our favourite because it is a B Corp and offers Positive Impact Portfolios).
If you are investing yourself via a platform, it might be difficult to find the most responsible funds as they tend not to be promoted. Use the search function to look for them by name. A fab site called FundEcoMarket, lists only responsible funds and allows you to drill down by theme, so you can choose the values you would like your money to back.
Some of the fund manager names to look for include WHEB Asset Management, Impax Asset Management, Pictet, Jupiter, which runs the Ecology fund, Kames, which has a fund called "Ethical Equity".

3.  "Robo-advice" websites such as Nutmeg and Moneyfarm are fantastically convenient and whizzy, but do not yet offer "responsible" options, unfortunately, so if you want to put your money somewhere responsible, these are best avoided, for now anyway. Although saying that, if the only way you are going to get into investing is for someone else to do it for you, then these are a fantastic way in to the world of stock markets.
ComRes polling for Big Society Capital found that almost half (46%) of UK pension savers in defined contribution schemes feel it is important that their retirement savings are invested in organisations that reflect their social and environmental views; this rises to 55% for those aged between 22 and 35, the millennial generation.

ShareAction Asset Manager survey March 2017
4. If you are feeling really confident and adventurous and want to build your own portfolio of stocks (even I don't do this yet), then download the Shape App. This will give you an idea of how specific companies measure up to responsibility standards. Its building its information all the time so keep checking back.
5. When selecting a fund, it is no longer enough to see if it is signed up to the UN Principles of Responsible Investing, as most are (with the exception of Santander Investment Management, according to Share Action). The actual level of impact activity still varies significantly.
6. Is your asset manager a member of the Global Impact Investor Network? You can check here. Again, it's not much more than a statement of interest in the themes, so the list is quite long, but it does mean that the asset manager is at least aware of its wider impact.
7.  If you really want to snoop on how seriously your asset manager is taking this stuff, take a look at ShareAction's latest league tables. This looks in depth at responsible approaches, including things like transparency of fees and disclosure of shareholder voting rationales. The top ten are in the table below.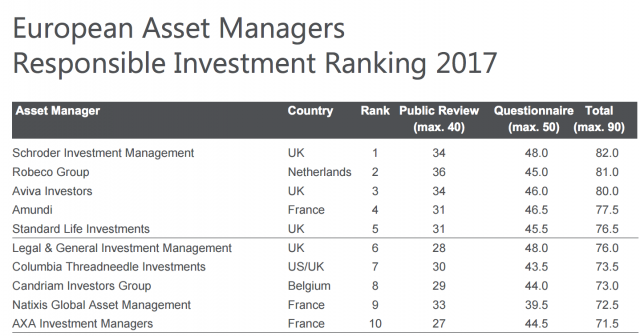 8. Want to stick with your existing asset manager, even though they don't seem to score well for responsibility? Simply send them a message saying you would like to invest more responsibly, what can they offer? And see what they come back with. It's an interesting exercise.
9. Consider an IFISA? They're a brand new type of ISA that lets you lend to businesses and projects via peer-to-peer platforms. But not all P2P platforms offer them. There's Abundance Investment, Crowd2Fund, Crowdstacker, Downing Crowd, The Lending Works, Landbay, and a few others. Returns tend to be higher than cash but not as bouncy as stocks and shares – expect around 5 to 7 per cent.
---
*This post contains affiliate links, for which Good With Money receives a small fee.