This blog post is sponsored by Downing Crowd
---
There's an ISA for everyone these days. Five choices, to be exact, for how you save or invest up to your £20,000 annual limit. And if you've kids – there are the junior ISAs to fund on top, too.
Have ISA options gone a bit too Chinese-menu on us, leaving us unable to decide and left floundering in cash because we can't? Or does the new smorgasbord of options truly cater for everyone, at last, after years of being stuck with beef or chicken?
A bit of quick reaction to the launch of the new Lifetime ISA suggests that some savers over the age of 40, who the Government has deemed ineligible for the LISA, which comes with a 25% government bonus, are feeling rather left out, apparently stuck only with the now humdrum-by-comparison stocks and shares ISA if they wish to invest in company shares or funds tax-free.
Anyone not looking to buy a first home with the help of either the Help to Buy ISA or Lifetime ISA; those not in any way enamoured with the very low cash ISA rates currently on offer; those dubious about the stock market or those just plain not in the right demographic for the government boosters might be among the first to sign up instead to the Innovative Finance ISA.
But even those who are eligible for the other government-bonus ISAs and have some savings left over might be tempted to put the leftovers into an IFISA – the ISA-land where returns are higher than cash but not as bumpy as equities can be.
Launched late last year but slow to get off the ground because so few providers have received the go-ahead from the Financial Conduct Authority to offer them, IFISAs are a way to lend via authorised peer-to-peer platforms tax free, as part of your £20,000 a year ISA allowance. Unlike the Lifetime ISA, which has a limit of £4,000 a year, you can use the whole allowance for an IFISA. There's an entire guide about them here.

The luxury of choice – for those with enough dosh
If you happen to have pots of money waiting to go into tax-free savings vehicles and have the luxury of choosing between any of the options, then having so many types of investment that are now tax-free is great for diversification.
The watchword for anyone interested in the IFISA has to be transparency.
If you've an open mind and an experimental attitude, you might consider, say, £4,000 in a LISA (the maximum allowance for the government bonus), £6,000 in an IFISA, £6,000 in stocks and shares and £4,000 in cash or help to buy. This is just an example of what a thoughtful ISA spread could look like.
The level of choice on offer now suits those in a position to diversify. Choosing between one or the other may be more difficult, unless you are in the running for a government bonus of 25%, which clearly beats all other options hands down, if you are eligible (and stick to the terms).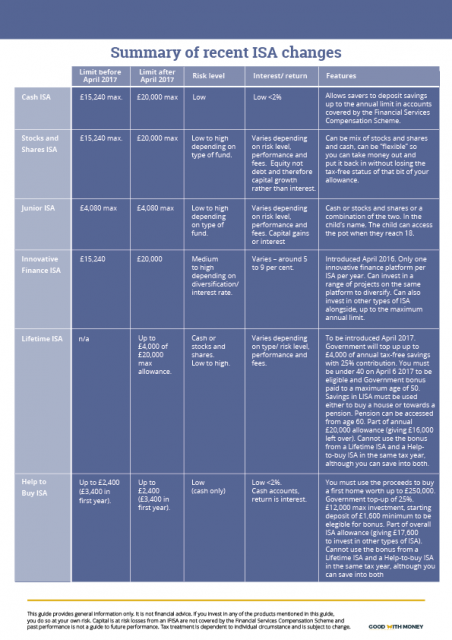 And of course, within stocks and shares ISAs, some Lifetime ISAs and IFISAs, you can diversify still further: between different types of fund in a stocks and shares ISA or different businesses within an IFISA.
The downside of an IFISA, should you be convinced that this is the right home for part or even all of your ISA allowance this 2017/18 tax year, is that you can only invest it with one platform (this is true of stocks and shares and Lifetime ISAs too).
But platforms such as Downing Crowd, which is part of Downing LLP, the asset manager, do tend to offer a decent mix of businesses in which to invest, from solar energy projects, to pubs, to care homes. Around one third of Downing's assets under management are renewable energy.
The platform's IFISA investors will soon be able to invest tax-free in an 18-month, 7.5 per cent bond, lending to a new pub development in Berkshire. The average weighted interest rate on its Crowd Bonds to date is 5.79%.
So far, having enough projects or businesses on the P2P platforms offering IFISAs has been the tricky bit. The danger of having too few projects is that investors money is left sitting in cash waiting for opportunities, earning them very little interest in the meantime. With Downing, no interest is paid on cash on deposit, although some platforms do offer a small cash interest rate.
Julia Groves, partner and head of crowdfunding at Downing, said: "The watchword for anyone interested in the IFISA has to be transparency. Our Crowd Bond platform offers a small number of larger scale investments, allowing us to carry out higher levels of due diligence, and provide a higher level of disclosure, which helps the end investor know where their money is going. The smaller size of P2P loans means this level of due diligence is usually not possible, so investors are not fully aware of how risk has been assessed. Nor would they always be able to choose where their money ultimately ends up."
Other IFISA platforms include Abundance Investment, specialising in loans to renewable energy projects, Crowd2fund, which lists loans to a range of British businesses, Crowdstacker, The Lending Crowd, The Lending Works and Landbay. Orca Money is a site that compares and researches peer-to-peer investments in IFISAs.