Renewable energy investment has stalled in the UK in the last two years to "worrying" levels, according to a major report published today by the House of Commons Environmental Audit Committee.
The Committee said the rapid decline in clean energy investment, which dropped 10 per cent in 2016 and 56 per cent in 2017, would threaten the UK's ability to meet it's fourth and fifth carbon budgets between 2023 and 2032.
The report suggests that the falling cost of generating electricity from wind and solar was partly behind the decline, however the Committee also blamed big changes to government policy on renewables in 2015 as well as Brexit-related disruption for the drop.
The summary reads: "It also looks likely that a series of sudden changes to low-carbon energy policy in 2015 undermined investor confidence and led to a reduction in the number of projects in development. Disruption from the privatisation of the Green Investment Bank and a reduction in European Investment Bank lending following the vote to leave the EU may have also played a part in the investment dip that we are seeing."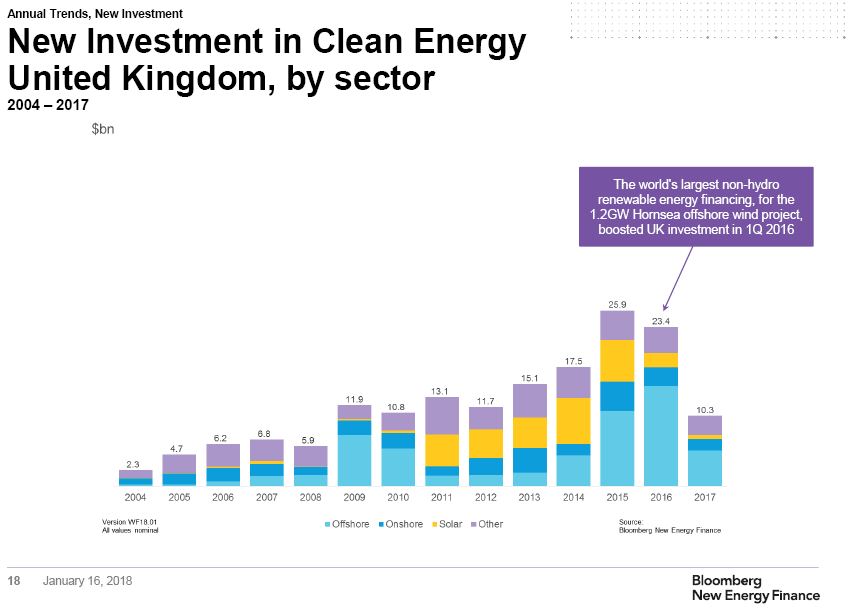 Lisa Ashford, CEO of Ethex, the sustainable investment platform, said: "We welcome the publishing of the report on green finance which rather worryingly highlights that there was a 56 per cent decrease in investment in 2017 in renewable energy.
"One way ordinary consumers can play a part in addressing this funding gap is through community renewable energy schemes yet we have seen a decrease in the number of schemes coming forward to raise investment as a result of the removal of the Feed In Tariffs. This creates a very uneven playing field when the EU still provides €4bn a year to support fossil fuels. We urgently need to look at the policy environment especially in a post-Brexit world that secures renewable energy as a central pillar of the UK's energy policy."
The report argues that the Green Investment Bank has not resolved the market failures it was set up to address and adds that "considerable policy and investment challenges remain in decarbonising transport, domestic heating and industry… the market is failing adequately to price and protect natural capital and is not stemming biodiversity and habitat loss."
It added that the UK is lagging behind international competitors on the issuance of green bonds.
---
Investing in renewable energy after Brexit – watch the video
---