Innovative start-up ForestCar aims to tackle climate change by offering motorists free airport parking in exchange for renting out their vehicles while they're away, and then investing profits into replanting rainforests.
ForestCar's mission is to reduce waste and greenhouse gases by taking rental cars off the road. It also helps to offset the carbon footprint of travellers by donating a share of its revenues to reforestation.
Founder Charlie Palmer said: "ForestCar is all about a sharing economy that benefits everyone. It offers a lower cost service to both car owners and renters, while also having a big positive impact on the environment."

Save money AND rainforests
Customers not only get to park for free at the airport – providing a significant cost saving – but they also earn money every time a ForestCar member uses their car. They then have the option to make an even bigger positive impact by investing some or all of these earnings into planting new trees.
The idea for the business came to Palmer when he was flying into Heathrow and saw thousands of cars doing nothing. He said: "I thought that's such a waste of resources. Meanwhile, people are spending a lot of money on dedicated rental cars which take money and materials to produce. If we could help people to share their vehicles, we could eliminate the need for rental cars altogether and cut down on a huge amount of waste."
But Palmer and his business partner Felix Mücke wanted to go even further towards offsetting the huge environmental impact of cars and aeroplanes.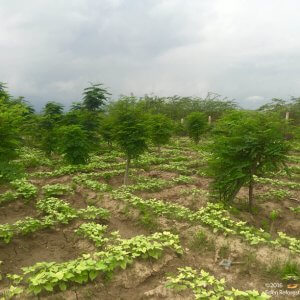 Palmer said: "It can be difficult not to travel by car or plane these days, but we can do more to offset the impact of this."
ForestCar plants trees through a partnership with non-profit reforestation organisation Eden Projects. The business invests 10 per cent of its profits (or one per cent of its income, whichever is greater) into replanting tropical rainforests. It also pays to plant one tree for every day a vehicle is rented out. And – the number of trees it plants is multiplied based on how safely and ecologically people drive.
Changing the future of car rental
ForestCar launched at Manchester airport in January 2019, through a partnership with parking company APH. If it proves to be a success, the aim is to rollout the service across the UK.
Palmer said: "APH also owns the carparks at Gatwick and Birmingham so that would be a natural next step. Ultimately, we want this to be the future for airport car rentals. The take-up and response so far has been phenomenal. We already have more than 200 members."
Charlie said the biggest issue they've faced is reassuring owners that their cars will be safe while they're away. He said: "It's the question we are asked the most and it's a very understandable concern. So we've covered all bases to ensure owners can travel without worrying about their car."
Travel and relax
All cars are fully insured by ForestCar's partner Cuvva, meaning the owner's insurance policy is unaffected in the case of an accident. The cars are even cleaned for free before they're picked up again.
Renters also benefit from the service by saving up to 50 per cent on traditional rental prices. Instead of booking a car 'category', they are guaranteed to get the exact car they choose, and there are no queues or paperwork at the airport.
Earn rewards with safe driving
ForestCar uses innovative 'telematics' tracking devices to monitor driving behaviour, helping it to offer affordable insurance and keep the service safe. Drivers can earn rewards – either cash discounts or more trees replanted – by driving safely and economically. Rental also includes AA cover which provides 24/7 roadside assistance and breakdown recovery.
ForestCar was initially supported by an accelerator programme for early stage business as well as some angel investors. If the service in Manchester goes well, Palmer said they will seek larger investment to roll ForestCar out to other airports in the UK.