In partnership with Triodos Bank
---
There's an old saying that "if you haven't got your health, you haven't got anything."
The truth of this has become painfully apparent in the first half of 2020, as we have watched coronavirus decimate our society and economy.
There's another phrase, which you were maybe more likely to hear before the pandemic: "there's no money to be made on a dead planet".
They both highlight the pointlessness of human endeavour if our own bodies, whether the individual's or the planet's – are compromised.
In the case of the coronavirus, there's a clear link between an unhealthy biosphere and a disease that has caused a global pandemic, affecting the health of millions of people.
The health of the planet and our own health are linked.
So before our eyes is the strongest case ever for investment in a prevention rather than cure approach to negative externalities, such as viruses derived from animals, but also investment in those ready cures, so that they are there when things do go drastically wrong, as we now know, they do.
A #NicerISA this year?
The new immediacy and obviousness of these connections should give you pause for thought if you are considering investing in an ISA this year: whether that's a cash ISA (read about the six most ethical savings accounts here); an 'Innovative Finance ISA' (the good guide to the IFISA is here) or a stocks and shares ISA (you can read about those, here).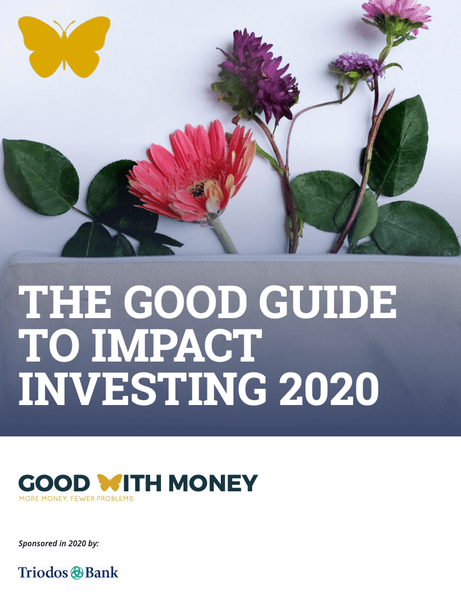 If you want your money to make maximum positive impact, the new Good Guide to Impact Investing is out now.
Money remains the means by which things are researched and made, so we all need to think about which side of this equation: cause or cure, our own money is on.
Your savings, investments and pensions are invested in companies. These companies may be on the #buildbackbetter side, the other side, or sitting on the fence somewhere in the middle. It can be hard to tell unless we are told categorically what companies and funds – like our pension funds and ISAs – are doing, or what commitments they are making.
One thing to note: if a fund claims to be 'positive impact' – that is the best indication you can have that it is on the right side of the equation. While there are other styles and labels for types of good investing, positive impact is the style which arguably guarantees the most good is being done with your money. That's why Good With Money has started #AimingForI.
---
Will health overtake fossil fuels as the world's number one 'resource'?
Apparently, we choose public health over tourism when our arms are twisted.

Hans Stegeman, Triodos Investment Management
While the pandemic continues, it seems fair to anticipate a rise in investment in companies and sectors that have the long term health of people and planet at heart, through the institutions that manage our pensions (your pension is invested in companies) and ISAs on our behalf.
That rise may be driven by the appealing prospect of long-term, sustainable returns as much as wanting a better world. Happily, it's now more or less clear to all that those two aims – to look after our finances and the world – are mutually compatible.
Investors who ignore values to take punts on higher profit opportunities in the short term suddenly look not just selfish, but less financially sound.
Indeed, there is evidence, thanks in part to their exposure to healthcare and focus on companies with good governance, that impact funds in general have performed better financially during the global pandemic than those funds that are neutral or worse, actually harmful to planetary health, such as those with high exposure to coal and oil.
---
Read the Good Guide to Impact Investing for 2020
---
Has health become the number one world's most important resource globally, and if so, what are the implications? Could we see, for example, a shift of big global capital away from fossil fuels and towards healthcare and pharmaceutical companies?
What do healthy finances look like for us?
And has 'financial health' or financial resilience, become another prized commodity for individuals as well as the global community? The ability to ride out serious economic lows personally and as a society, has moved up the priority list.
This could mean a re-organisation of our personal finances, away from a focus on cheap debt and the cheapest short-term deals and towards a focus on long-term savings and investments that will give us the reliable financial cushions we need, from short term, emergency pots to long term retirement funds. The most recent data from UK Finance, which shows a significant decline in credit card spending, suggests this is already happening.
---
How to make some quick wins with your money
---
Is better health of all kinds, mental, physical and financial, a better proxy for the strength of an economy than GDP? These are big questions, but we can focus on our own individual health in these areas, too.
Impact investment managers, such as Triodos Investment Management, have been focused on resolving the aims of wanting to improve the environment, society and customers' own financial resilience, for years.
Impact investment managers, Triodos Investment Management, the investing division of Triodos Bank, have been focused on resolving the aims of wanting to improve the environment, society and customers' own financial resilience, for years. As Hans Stegeman, of Triodos, said in a recent blog post: "For the first time in a long while, government policy isn't primarily about economic values, it's about human, collective values, such as life and health. When push really comes to shove, we feel these values are worth an awful lot of money, and therefore outrank purely financial values.
"If it were up to me, we'd be more explicit and take this even further. If we extend this approach to our health and that of our children and the communities we seek to build, other considerations quickly come to the fore: we need more than just budgetary rules for finance, we need them just as much for health, for social and environmental values.
"What comprehensive values do we think are important as a society and how much money are we willing to allocate to them? There's no getting away from this question – the crisis is making this crystal clear. Apparently, we choose public health over tourism when our arms are twisted. Never before were public policy trade-offs so clear for all to see."
If you want your investments to support public health, planetary health and your own financial health this year, join Good With Money and Triodos in:
#AimingForI with a #NicerISA this year