The UK's first local government green bond is off to a successful start – with almost half the £1 million target reached just two weeks after launch.
West Berkshire Council launched the groundbreaking bond to help 'build back greener' following the Covid-19 pandemic and reach its ambitious target of making the district carbon neutral by 2030.
The bond is being offered through ethical investment platform Abundance, using its new Community Municipal Investment (CMI) product. This allows councils to offer a regulated investment directly to their residents for the first time. It has already proved popular, with more than £470,000 sold with one month still to go on the offering.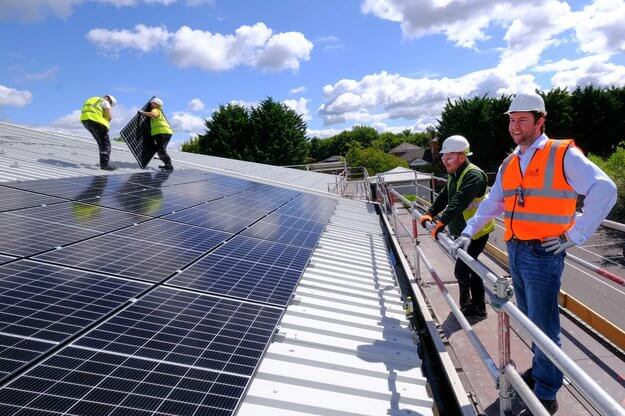 For councils struggling with the dual challenges of economic recovery from Covid-19 and responding to the climate crisis, CMIs are being hailed as a breakthrough in delivering green projects, jobs and economic stimulus.
Bruce Davis, co-founder and managing director of Abundance, said: "We believe that using CMIs to issue green bonds can really supercharge the green economy, and help us take the real action we need today to build the resilient, sustainable communities we need for tomorrow."
The West Berkshire green bond will fund solar panel installations on five council-owned buildings, including a building at Greenham Common and two local schools.
It is set to be followed by Warrington and Leeds councils, with the potential to be rolled out across every local authority in the UK. This would unlock £3 billion for councils to finance net zero strategies, matching the Chancellor's stimulus package announced last month.
Mr Davis added: "There is a lot of talk about the need to build back greener, but CMIs are the direct, tangible investments that can deliver the projects that will actually make that happen. 
"We're really pleased to be launching the first of these with West Berkshire to help them achieve net zero 20 years ahead of the UK's target. They are demonstrating that local authorities can be powerful engines of green growth for the future."
West Berkshire declared a Climate Emergency a year ago, following this up with an Environment Strategy which has an ambitious target of making the district net zero by 2030. Its green bond to fund new solar power in the district is one of the first deliverables of its strategy.
Ross Mackinnon, West Berkshire's Executive Member for Finance and Economic Development, said: "We are very excited to be the first council to offer CMIs to our residents and community groups. They are a ground-breaking way to put residents' money to work to help us build back greener after the pandemic.
"Communities investing directly with us will provide us with a cheaper alternative to conventional sources of funds reducing the overall cost of borrowing to all taxpayers across the district as well as making a positive contribution toward our target to be carbon neutral by 2030."
The West Berkshire CMI offers low risk returns of 1.2 per cent per year over a five year term. To find out more and download an offer document, visit www.abundanceinvestment.com/invest-now/west-berkshire-2025 .