You'll likely be familiar with using a comparison site to switch your energy, insurance, and broadband providers for a better deal – but did you know it's also possible to compare and switch your mortgage?
It can be easy to feel confused and overwhelmed by the number of new providers and products popping up offering to do this – especially when they all appear to do the same thing on the face of it.
In response to demand for more guidance on how to choose between different products, Good With Money has introduced 'need to know' product and provider reviews.
Here we look at Dashly – a free online mortgage platform that evaluates the market 24/7 to find the cheapest deal for you.


---
The deal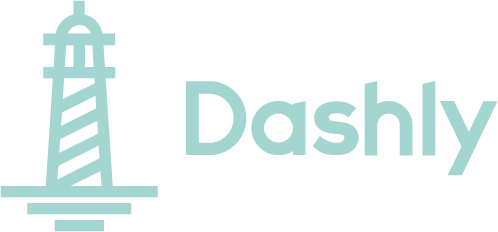 Dashly uses "next generation" technology to constantly scour the mortgage market to see if you could save money by switching, no matter how long is left on your current deal.
Unlike traditional brokers which wait for your fixed-rate period to come to an end before offering you a switch, Dashly is 'always-on'. It compares thousands of products from around 100 lenders daily, and continuously tests them against your personal circumstances. This includes your current mortgage interest rate, property value and amount of equity.
It will compare any early repayment charge you may have with the gains you could make by switching to a cheaper mortgage. When it finds a way to save you money, it will let you know and offer to take care of the switching process for you. You can talk to a Dashly advisor for free before you commit. Once you remortgage, Dashly will begin the search all over again.
User-friendliness
Anyone who has ever applied for a mortgage will know it's not usually the smoothest and most 'user-friendly' experience. However, Dashly aims to make it as hassle-free as possible.
To get started you will need to set up a Dashly profile. It will take around 10-15 minutes to answer some questions about your mortgage. You'll receive an immediate set of results, or confirmation that you're already on the best rate. The platform will then notify you when a new deal becomes available that would save you money.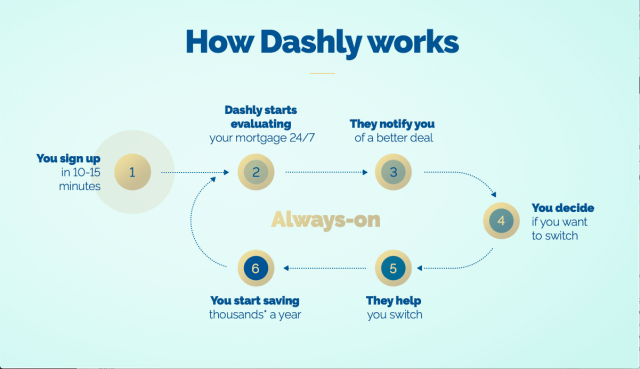 Is it safe?
Yes. Dashly's security is as good as that used by the world's leading banks. It is authorised and regulated by the Financial Conduct Authority (FCA) so must follow rules on treating customers fairly and making product and service terms and costs clear. You have the right to complain to the Financial Services Ombudsman if issues can't be resolved. The app also doesn't use annoying paid adverts, or send you email spam.
Sustainable option
Dashly searches the entire mortgage market for the cheapest deal for your circumstances and doesn't currently have an option that takes sustainability into account.
Unique selling points
24/7 searching. Dashly claims to be the only mortgage platform that searches the entire mortgage market continuously.
The plus points
Free to use. Like most brokers, Dashly receives a referral fee from the lender when you switch.
Real-time searching. Dashly searches the mortgage market on your behalf every day.
Personalised. The app offers you deals based on your individual circumstances such as the value of your property, your equity and your current mortgage term.
Any drawbacks?
Can be a little time-consuming. While previously you may have sorted your mortgage deal then put the paperwork away for a few more years before asking for a cheaper deal from your current provider, Dashly will take a little more effort. You'll need to input details from your latest mortgage statement and make sure all the figures add up so Dashly is working from an accurate starting point. However, you may feel a bit of extra effort is worth it to potentially save hundreds, or even thousands, of pounds.
Technology-based. While technology is a major selling point for Dashly, it also means you will have to be computer literate and comfortable with handling the mortgage switching process entirely through an app (although a human advisor is on hand if you'd like to talk anything through).
No sustainable option. Finding an ethical provider that also offers a cheaper deal would significantly narrow your search, but as Dashly (and the sustainable mortgage market) develops, it would be good to see this become an option.
---
Top 4 responsible mortgage providers for 2021
---
Cost of use
Dashly is completely free to use. It makes its money from procurement fees paid by lenders in return for introducing customers to their mortgages.
How do these costs compare to competitors?
Dashly's competitor Habito offers a free broker service to find you the cheapest mortgage deal for your circumstances and apply for it on your behalf. It also offers a 'Habito Plus' service where it will handle all your buying admin, including price negotiation, an in-depth property survey, conveyancing and legal work, for a fixed fee that starts at £2,000.
Trussle and MortgageGym also offer a fast and free online mortgage service. Trussle is linked to property portal Zoopla to show you properties that might be suitable for your budget and needs.
Other options
Similar digital mortgage brokers worth considering are:

---
Top 3 ethical and eco-friendly home insurers
---
Good With Money occasionally uses affiliate links to providers or offers, where relevant. This means that if you open an account or buy a service after following the link, Good With Money is paid a small referral fee. We choose our affiliates carefully and in line with the overall mission of the site.