Here we look at CIRCA5000 (previously tickr) – an app that allows you to easily invest in globally-listed companies to make a profit while also making a positive difference to the planet and society.
---
The deal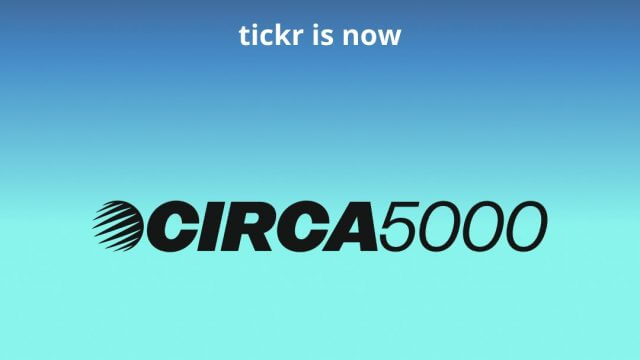 Co-founders Matt Latham and Tom McGillycuddy started CIRCA5000 – originally named tickr – to meet the ever growing demand from socially conscious investors. They both previously worked in the investment management industry and had become jaded by what they saw as the finance sector's lack of thought into its societal impact.
They also felt its overly complicated jargon shut 'ordinary' people out who might otherwise want to invest. The CIRCA5000 app has more than 150,000 customers, with a huge 90 per cent being first time investors.
---
Read the Good With Money interview with CIRCA5000 co-founder Tom. 
---
The CIRCA5000 app aims to make investing convenient and accessible to everyone (including those with zero experience of investing). The name change aims to reflect what the world could look like for future generations in the year 5000, with the right kind of investment.
You can download the app onto your phone in under five minutes and start investing from just £5 a month (although you probably shouldn't consider investing less than £100 a month, as we explain below).
Investors can choose to put their cash into companies from three separate themes – climate change, equality and disruptive technology – or a combination of all three for the less decisive, at a risk level they feel comfortable with. Investments can be held in an ISA, Junior ISA or Self-Invested Personal Pension (SIPP).
NB. If you are struggling to work out the right risk level for you: the theory goes that the more risk you take, the greater the potential your reward. It doesn't always work out that way – and these are strange times to invest.
CIRCA5000 says a typical customer invests an average of £150 a month.
---
Get £5 to invest in CIRCA5000 by signing up here
---
User-friendliness
The user-friendliness of the CIRCA5000 app is one of its biggest draws. There's zero financial jargon – only clear, everyday language (which is exactly as it should be) – and the process of investing is made quick and simple to understand.
The app walks you through four picture-led steps. Investors choose the theme they would like to invest in, set a risk level they are comfortable with, choose a monthly amount they can afford to pay in, then watch the performance of their savings through graphs and charts.
It's crazily quick to set up.
Sustainable investing option
The whole premise of CIRCA5000 is that you shouldn't have to compromise your social and environmental values in order to make money. Therefore it ONLY offers investments in funds that are designed to have a positive impact on people and the planet.
CIRCA5000 is a certified B-Corp company, which means it has made a legally-binding commitment to consider the impact of its decisions on its workers, customers, suppliers, community, and the environment.
In 2020, CIRCA5000 became twice carbon neutral by offsetting double the amount of its carbon output. It also launched a carbon offsetting subscription for its customers.
The app uses a number of asset managers to provide the funds – BlackRock, Lyxor Asset Management and Legal & General.
This is via what's known as "Exchange Traded Funds" or ETFs. These are "passive" investments, meaning the money goes into a basket of companies and essentially, the asset manager sits back, relaxes, and keeps watch. Why that matters is explained below but what you need to remember is this style of investing is a) cheaper, but b) not necessarily as positively impactful as an active approach.
Unique selling points
CIRCA5000 brings investing to the masses and hits the millennial sweet spot better than most on the market. More than 40 per cent of its investors are female, with an average age of 31 and a massive 90 per cent have never invested before.
The app addresses the troublesome knowledge gap in investing with in-app 'financial education' videos which explain in everyday language what ethical investing is all about.
There is also a unique offer where CIRCA5000 commits to planting a tree in Indonesia for every referral (as well as the user and their friend getting £5 each to invest). Customers are sent the exact coordinates for the forest on a map, so they can see the real positive impact of the extra signup.
A 'carbon coaching' feature can calculate the carbon footprint of each customer based on their everyday spending. Customers who select this feature will be told their individual carbon footprint and offered tips on how to reduce it, as well as the option to offset their emissions.
The plus points
Simple and interactive. Set up and choose your investments easily, see the progress of your savings with handy charts and graphs and find out how the companies you invest in are using your money – and what the reward is, for you as well as the planet.
Transparent. CIRCA5000 is also relatively transparent about the companies that will be benefiting from your cash, with lists of some of the companies in each investment theme, and short video profiles of some of the companies in its portfolios, and stats. It means investors get a good idea of what their money is being used for around the world.
Any drawbacks?
Mobile only. CIRCA5000 is only available on mobile, so you will have to feel comfortable keeping track of your investments solely through your phone.
Passive. CIRCA5000 uses passive Exchange Traded Funds (ETFs – otherwise known as index trackers) to invest across markets. As these funds are not 'actively' managed, it makes them cheap to run. However, the flipside of this plus point is that it's harder to achieve a high degree of positive impact, compared with funds that have managers that actively stock pick the right companies.
Could dig deeper. There could be more information on the companies and what they do, for those who want to know more.
Comparatively high fee. The subscription fee (as we explain below) is relatively high for those only investing small amounts.
Cost of use
CIRCA5000 wants to be accessible to as many people as possible, regardless of wealth and financial background. It achieves this with a minimum investment of just £5. CIRCA5000 charges a flat £1 per month subscription fee, and your first 30 days are free. There is now no fee charged on pensions.
There are no annual platform fees, until your balance goes over £3,000 when you will be charged £1 per month plus 0.30 per cent on any portion of the balance above £3,000.
CIRCA5000 does not charge trading fees, fees for opening or closing your account, depositing or withdrawing from your account, or transferring an external account to your tickr account.
The only other cost is from the provider of the underlying investments: the fund manager. This varies based on your choice of theme and risk and varies between 0.30-0.61 per cent per year.
How do these costs compare to competitors?
The £1 a month subscription fee is high if you are only investing small amounts. For example, if you only invest £5 a month, that's £60 a year – minus charges would be £48. SO in this example, you'd need to make a return of 20 per cent on your investments simply to cover the subscription charge.
A flat charge such as this really only begins to look feasible if you are investing at least £100 a month. £12 a year is one per cent of the £1,200 you would invest over a year – an annual % that begins to look like it could be realistically beaten by returns in most years.
But do bear in mind that in poor return years, you could still be down on the deal, making even less than the charges you pay if the fund performance is negative or even if it's just below the % you have paid in fees.
The Wombat Invest app, which we review here, only starts to charge £1 a month once your balance reaches £1,000, so investors with smaller balances are not down on the deal.
Wealthify charges a proportionate fee of 0.6 per cent of your investment amount, which works well if you have a smaller balance, but for investors with larger balances, a percentage fee can mean you end up paying more and you'd be better off with an app or platform that charges a flat fixed monthly or annual sum.
If you compare Wealthify and tickr directly on use fees only, then an investor with a balance of £2,000 would pay the same, but would start to pay more to use Wealthify once the balance exceeds £2,000.
Other options
Similar investing apps worth considering are: