Here we look at Beanstalk – an app that helps families work together to save and invest for their children.
---
The deal

Beanstalk is a new family saving app developed by the team at Kidstart – the shopping club for parents that gives money back for your children when you buy from a wide range of retailers.
The app offers a tax-free stocks and shares Junior ISA (JISA) for your child. With no minimum amount or regular contribution required, you, grandparents – and anyone else you invite – can pay any amount of money into it at any time. You can choose how much of your money you'd like to invest and how much to keep as cash.
You can link the JISA to your Kidstart account, so any cash back you earn as you shop will be automatically added. You can also opt to round up purchases you make from your current account (which you can link to Beanstalk through open banking) to the nearest pound and add these as savings.
For those who might struggle to commit to a regular deposit each month, it means you can save little and often and watch your child's savings build. Beanstalk also offers an adult ISA for yourself, so you can manage your savings alongside your children's in one place.
As of October 2021, Beanstalk had been installed 20,000 times and had 9,000 users.
User-friendliness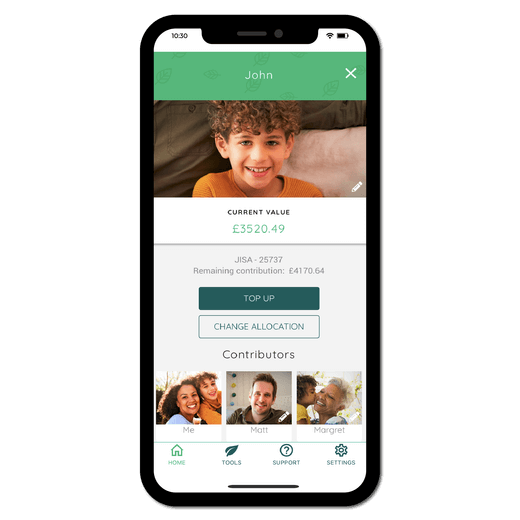 Beanstalk CEO Cem Eyi is passionate about ditching the complexity of saving for children. He told Good With Money: "Parents want to save for their children's futures but most products on the market don't make it easy. To set up a JISA at a bank, you often have to go into a branch with your child's birth certificate and then can't check the balance online. They can also come with quite high minimum deposits or regular monthly contributions which many families, especially those on lower incomes, are worried about committing to."
It takes just two minutes to sign up to Beanstalk and open a JISA and/or ISA. A handy slider lets you choose what portion of your money you want to put into a cash fund (which is lower risk but usually lower returns) and how much you'd like to invest into stocks and shares (which is higher risk but has the potential for higher returns).
Is it safe?
Yes. Beanstalk is regulated by the Financial Conduct Authority. Investments made through the app are covered up to £85,000 under the Financial Services Compensation Scheme.
Sustainable option
Beanstalk currently does not offer a sustainable option for your investments. You can choose between two funds: a cash fund (Legal & General Cash Trust fund), which aims to provide returns in line with money market rates, and a shares fund (Fidelity Global Index fund), which aims to track the performance of global stock markets and therefore large companies such as Amazon, Facebook, Google and Johnson & Johnson.
However, Eyi said they have experienced demand from customers for a sustainable investment option on the app and will look to add this in the future. He said: "We wanted to keep the app as simple as possible, which is why we currently offer only two funds. These were chosen because they are low-cost, reputable and contain liquid assets. But we are being asked about an ESG [environmental, social and governance] option more and more and are keen to add this once we are more established."
Unique selling points
No commitment. This is a big one, as many apps in this market ask you to deposit an initial lump sum and/or make a regular payment. You – or anyone you invite – can add any amount of money to your Beanstalk account at any time.
Low fee. Beanstalk charges a competitive annual fee of 0.5 per cent on your investments (see below).
The plus points
Family and friends can contribute. Send invites to grandparents or other family and friends through the app and they will be linked to your children's accounts. You and they can see what they have given, and can swap messages about their gifts.
Savings round ups. The Beanstalk app will automatically round up your purchases to the nearest pound (when you give it access to your bank account), and ask if you want to add it to a savings pot.
Simple and accessible. Beanstalk streamlines the process of saving for your child and makes the JISA accessible to parents of all incomes.
Any drawbacks?
Beanstalk doesn't yet offer a sustainable investing option (see above), which is disappointing given the current wave of consumer interest in using their money to make a positive difference to the planet as well as their own future.
Cost of use
Using the Beanstalk app is free. For investments, there is an annual fee of 0.5 per cent. As with all investments, the funds also come with their own management fees. These will vary depending on which ones you choose but are typically between 0.12 per cent and 0.15 per cent.
How do these costs compare to competitors?
Social impact investment app CIRCA5000 (formerly tickr) offers a 'junior impact stocks and shares ISA' and adult ISAs. You can choose to invest in companies from three themes – climate change, equality and disruptive technology – or a combination of all three, from £5.
The fee is £1 per month for balances up to £3,000 and £1 per month plus 0.3 per cent on the portion above £3,000. You will also pay a fee to the fund manager, which varies between 0.30-0.61 per cent per year.
CIRCA5000 invests your money in Exchange Traded Funds (ETFs). These are "passive" investments, meaning the money goes into a basket of companies and the asset manager simply keeps watch. While this is a cheaper style of investing, it may not be as positively impactful as an active approach.
The Big Exchange, co-founded by The Big Issue, also offers junior and adult stocks and shares ISAs. Your money is invested in positive impact funds (regarded as the gold standard in sustainable investing), which are rated against the United Nations Sustainable Development Goals.
You can invest from £25 a month or a lump sum of £100. The platform fee is 0.25 per cent. On top of this you will pay a fee to the manager running the fund you choose to invest in. This typically ranges from 0.8 per cent to 1.8 per cent per year.
Which platform you choose will depend not only on the fee but your ability to deposit a lump sum or commit to a monthly payment – as well as how important investing your money sustainably is to you.
Other options
Similar apps worth considering are:

---
Good With Money occasionally uses affiliate links to providers or offers, where relevant. This means that if you open an account or buy a service after following the link, Good With Money is paid a small referral fee. We choose our affiliates carefully and in line with the overall mission of the site.