Sustainability might be a trendy topic at the moment, and rightly so, but it goes much further than cutting out single use plastics or choosing a plant based diet – and culpability falls on larger shoulders than those of the individual.
In 2015, all United Nations Member States adopted the 2030 Agenda for Sustainable Development, making assurances that social and political progress would centre on three key areas: environment, society and economy.
The Sustainable Development Goals (SDGs) attempt to tackle injustice, inequality, and environmental degradation, and aspire to increase global prosperity and ultimately achieve peace and justice in all UN member states by 2030.
These goals are all connected, and progress in one field naturally leads to success in another; all the while ensuring the inclusion and welfare of all citizens, regardless of gender, age, race, economic background or ability.
SDG 1: No poverty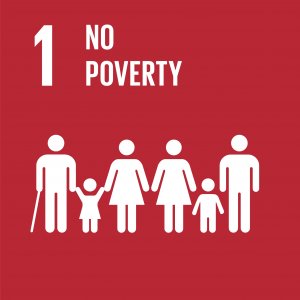 In developing countries, a tenth of the population is below the international poverty bracket. That's 783 million people worldwide who earn below US$1.90 (£1.49) per day. And poverty isn't just about money: it encompasses nutrition, housing and education.
The UN aspires to eradicate extreme poverty, and halve the number of people living in any form of poverty by 2030, meaning economic growth must be inclusive and benefit society as a whole. Regardless of race, gender and age, people must have equal rights to all economic resources, basic services, land ownership and finances. Building the resilience of the poor and reducing exposure of vulnerable groups to risk must be a global priority.
SDG 2 : Zero hunger
Currently 1 in 9 people worldwide simply don't have enough food to eat – that's 815 million hungry people, and the figure is rising. Typically, the problem is worse (but not restricted to) developing countries; particularly Asia, where 12.9 per cent of the population is undernourished.
All people must have access to sufficient, sustainable and safe food supplies by 2030, securing an end to all forms of malnutrition. Agricultural production should be doubled, food production must become more sustainable and investment in agricultural productivity and diversity should be prioritised.
SDG 3: Good health and well-being
A healthy population is an essential aspect of sustainability. But, despite recent progress, each year more than five million children still die before their fifth birthday. Fatal disease such as HIV/Aids and Malaria has also seen falling rates in recent decades, due to increased access to care and education, but must still be seen as a key area of concern.
Targets include eliminating preventable deaths of infants and children under five, and reducing maternal deaths to below 70 in every 100,000 births. There should be increased access to healthcare and education, and issues of drug and alcohol abuse need global attention. Wealth should be diverted to research into vaccinations and medicines, and financing the health industry.
SDG 4: Quality education
Ensuring that all members of society have access to a good education is a cornerstone of social progress and a huge factor in securing a sustainable future. Globally, 265 million children are not in school: 22 per cent of these are primary school aged. But going to school doesn't necessarily mean adequate education: 617 million schoolchildren still haven't learned basic reading and maths skills.
Tackling this means ensuring that, by 2030, all children have access to free, equitable primary and secondary education of a high standard, and all people can access further education. Part of every person's education should focus on sustainable development and all it encompasses.
SDG 5: Gender equality
The SDGs recognise that there is still progress to be made in the fight for Gender Equality. Girls are married as children, subjected to FGM and are at a high risk of violence, but in 49 countries there are no laws in-place to protect them.
Women are still economically disadvantaged too, owning just 13 per cent of agricultural land, earning 23 per cent less, and holding only 23 per cent of political offices. Gender discrimination must be eradicated by 2030. That includes violence; domestic, sexual, economic and otherwise.
Read: 'How gender stereotyping is locking women out of wealth'
SDG 6: Clean water and sanitation 
Clean, safe drinking water and access to hygienic sanitation is one of the most critical aspects of safe living. But on a daily basis, nearly 1,000 children die from entirely preventable diseases caused by unclean water. Currently 3 in 10 people have no access to safe drinking water, and 6 in 10 can't access sanitation facilities.
By 2030, access to clean, safe water and hygienic sanitation should be universal. Countries should focus on the reduction of pollution and minimising irresponsible disposal of waste, effective resource management, and local initiatives.
Want to know how to invest in water? Click here
SDG 7: Affordable and clean energy
When it comes to sustainability, energy is the catch 22 – we can't make progress without it, yet energy accounts for 60 per cent of total greenhouse gases, and so is the largest culprit when it comes to climate change.
More than 4 million deaths occurred as a result of unclean energy in 2010 and so SDG 7 is to make affordable energy accessible to all by 2030, and a substantial share of it must be sourced from renewables.
SDG 8: Decent work and economic growth
Although global employment rates are on the up, there are still large pay disparities and many jobs fall into the 'informal employment' category, leading to insecure jobs and increased poverty. A sustainable economy must allow people to be engaged in stable employment that benefits the economy without harming the environment.
Wealth obtained from economic growth should be redistributed effectively and invested sustainably to ensure all of society benefits.
SDG 9: Industry, innovation and infrastructure
Social infrastructure, such as efficient transport, energy, communication and irrigation, is crucial to empowering communities and ensuring sustainable development. Increasing access to and nurturing the development of sustainable and resilient infrastructure to support economic growth and human well-being globally plays a crucial role in the success of all other SDGs.
Check out our Good Investment Review for our selection of the UK's top infrastructure funds 
SDG 10: Reduced inequalities
Economic growth is not a sufficient solution to poverty if it is not inclusive, and disparities in access to health, education and work persist. There's a direct link between social disadvantage, risk of poverty and reduced life expectancy.
In a society that works towards empowering disadvantaged people and ensuring equal opportunities for all, the three dimensions of sustainable development (economic, social and environmental) can be met. This includes safe and responsible migration, gender parity and the empowerment of all races, sexes, ages, backgrounds, and abilities.
SDG 11: Sustainable cities and communities
By 2030, the number of people living in cities is expected to rise to 5 billion, so proper planning and management must be implemented to ensure responsible urbanization. Rapid expansion of the urban landscape puts a huge strain on resources, the environment, and the health and wellbeing of city residents – many cities nurture a slum culture and catastrophic air pollution levels due to improper infrastructure.
In line with the SDGs, housing and cities must be deemed safe and inhabitable and urbanisation must be stabilised, protecting the natural environment and ensuring safety of city inhabitants.
Check out the latest innovations in 'Smart City' living here 
SDG 12: Responsible production and consumption
At our present rate of consumption and population growth, by 2050 we will need the equivalent of three planets to sustain our current lifestyles. In order for a sustainable future to be possible there needs to be an overhaul of the entire supply chain; from producer to consumer.
As a global society we must reduce our consumption, particularly our irresponsible wastage of food, energy and water. We must also remodel our lifestyles to incorporate a culture of and reusing and recycling resources, which rests on proper education about the implications of and alternatives to wasteful consumerism.
Read our 5 easy tips to going plastic free here 
SDG 13: Climate action
The effects of climate change are disrupting economies, taking lives and destroying natural habitats around the globe; no country or community is immune. As global citizens we must take responsibility, utilise cleaner and more resilient economies and prioritise climate action in both individual choices, and national and international policies and legislation. This is addressed more directly by the Paris Climate Agreement, which has been ratified by 175 UN Member States.
Want to help the world go fossil-fuel free? Check out our guide series: 'How to invest in renewable energy'
SDG 14: Life below water 
Our oceans cover 75 per cent of the earth's surface and make the earth habitable for humankind. Responsible, sustainable development means regulating pollution, tackling overfishing, preventing chemical imbalances due to waste disposal, and temperature change due to climate change. By ensuring that research and education in the marine sphere continues we can conserve this vital resource and habitat to sustain and conserve life below water.
SDG 15: Life on land
Forests are a major food resource, provider of shelter and versatile materials, and the number-one defence against climate change. They support the livelihood of 1.6 billion people and sustain the life of 80 percent of all life on land. But they're disappearing into the system of corporate greed, and without them the loss of species, biodiversity, and eventually human survival is inevitable.
Conserving forests and other natural ecosystems, combating desertification and preventing environmental degradation is a crucial to a sustainable future. Sustainable management and the prevention of poaching and uncontrolled deforestation by engaging indigenous communities creates jobs, and preserves the lungs of the earth.
To find our how YOU can invest in conserving the world's forests, click here
SDG 16: Peace, justice and strong institutions
Peaceful, inclusive society is essential for the success of sustainable development. This cannot be achieved without the eradication of trafficking, sexual violence, international homicide and violence against children.
Institutions must be built or remodelled to be a trustworthy defence against injustices and a protective barrier against corruption. The world should be a safe place for all people, and protecting our most vulnerable is the core of any progress. For that to happen, the corrupt and unjust must be held to account.
Read: Top 5 tips for giving to charity
SDG 17: Partnerships for the goals
The SDGs are dependent on each other for success. The reduction of inequality allows progress in gender equality, and leads to an increase in global peace and justice. The development of clean, renewable energy is a huge step in the fight against climate change, which in turn benefits life on land, life below water and more.
In this way, UN Member States should work together to ensure that the completion of the goals is universal, offering help and support where possible and receiving it when necessary, recognising the greater need of developing member states. Partnership can be financial, resource based, technology based, aid based, or involve shared expertise.
The key to sustainable development is cooperation and collaboration.

For your FREE guide on how to invest to help the world to achieve the UN SDG's – while securing your own financial future from as little as £5 – see the Good Guide to Impact Investing.