Actively choosing who you bank with is a powerful way to support a more sustainable world.
Most big name banks use our money to make more money (mostly for themselves) by investing it. Unfortunately, this means that large chunks of our cash are funnelled into practices that are harmful to the environment such as fossil fuels, tobacco, oil, or arms production.
In contrast, ethical banks have greener investment policies and pay their fair share of tax.
While still harder to find than ethical personal current accounts, green business banking alternatives DO exist in the UK. And, thanks to the Current Account Switching Service, it's now easier than ever to move your money for good.
The five providers below rank highly on the ethical stakes. All are covered under Financial Services Compensation Scheme (FSCS), meaning your assets are protected up to £85,000.
Triodos Bank is hands down the most ethical bank in the UK. Founded in 2017, Triodos believes banking can be a powerful catalyst for achieving positive and lasting change.
Therefore it ONLY lends to organisations that positively affect people's lives, protect the planet, and/or build strong communities. It also publishes details of those organisations on its website, so you can easily see how your money is being used as a powerful force for good.
---
Find out why Triodos is a Good With Money 'Good Egg' company
---
The Social Venture Current Account from Triodos allows you to manage your day-to-day banking services online, by phone or by post, set up direct debits and standing orders, make and receive foreign payments, and write cheques and pay them in by post.
It also offers over-the-counter deposits, encashment facilities (fees apply), overdrafts and loans. However, these facilities are not offered as standard, so you will need to contact Triodos to discuss whether your organisation would be eligible to apply for them. To be eligible, your organisation will need to have a turnover of £50,000 or more. Its practices must also not conflict with Triodos' ethical ethos.
Triodos, a  B-Corp company, was granted a UK banking license in 2019. It rates extremely highly for customer service, clinching the Customer Service Champion award at the British Bank Awards 2020.
However, although the Triodos business account is as ethical as it gets, it does have some limitations that you must bear in mind. Most importantly, there is no credit or debit card with the Social Venture Current Account. Nor does it offer standard services to access cash.
Also, while internal banking transfers are free, there are charges on standard account services. Direct debits, standing orders, BACS, and 'Faster Payments' in or out of your account will cost you 30p, non-automated transactions such as paying cheques or postal orders in will cost 60p, and each cheque you draw will cost 60p.
---
Read our review of Triodos Bank 
---
The Cumberland is a building society based in Cumbria. It offers business current accounts to customers living in Cumbria, South West Scotland, West Northumberland and North Lancashire. It has two business account options, depending on your type of business and the value of your daily transactions. Its business banking calculator will help you work out which one is best for you.
Cumberland's business account offers a debit card, standing orders and direct debits, free daily cash withdrawal up to £300 per day (or £500 at its branches), online banking, and an arranged overdraft facility with a 3.04 per cent, per quarter, fee. It also offers an e-savings account to its business online banking customers.
Its building society status means it does not invest its members' money in stocks and shares. Therefore, many of the issues normally associated with ethical investment do not apply to it. In the last financial year, it donated more than £100,000 to support local community, educational and charitable initiatives.
---
Top 5 ethical current accounts
---
If you're a socially-minded business, chances are you'll like Unity Trust Bank.
It uses deposits made by your business to fund lending that supports the communities that you and it collectively serve. This means that by banking with Unity Trust, you are helping to contribute to economic, community and social change.
Unity Trust Bank offers fast, secure and easy-to-use online banking with the option to set up single, dual and triple authority of payments.
It does not, however, offer a debit card for its business current accounts. You can pay in, or withdraw cash from your local NatWest (England and Wales), RBS (Scotland) or Ulster Bank (Northern Ireland) branch, or set up a Post Office Cash Account card to pay in cash at a Post Office convenient to you.
It has also partnered with Lloyds Bank (a 'Big Five' bank that doesn't have such squeaky clean sustainability credentials) and MasterCard to offer a Unity Corporate MultiPay Card – a charge card that is subject to credit approval.
App-based bank Starling – voted "Britain's Best Business Banking Provider 2021" at the British Bank Awards – expressly avoids fossil fuels, mining, arms and military, and instead invests in "government securities and other high quality liquid assets".
Since Starling is a paperless, branchless bank, its carbon footprint is significantly lower than some of its competitors.
Its easy-to-use business current account offers no monthly fees or UK payment charges, free 24/7 customer support, and integration with Xero, Quickbook and FreeAgent accounting softwares. You can also customise your account with paid-for add-ons such as a 'Business Toolkit' to streamline your bookkeeping, and linked multi-currency business accounts.
It is worth noting, however, that despite its longstanding opposition to fossil fuels, in March 2021 Starling accepted funding from Qatar's sovereign wealth fund. The fund was set up in 2005 to invest Qatar's substantial oil and natural gas revenues around the world.
A spokesman for Starling Bank said that "one of the key roles of QIA is to reduce Qatar's dependence on revenues derived from oil and gas and to expand investment into non-hydrocarbon sectors. That's one reason why it has been investing in a range of well-known British brands in addition to Starling."
---
Read our review of the Starling Bank current account 
---
Tide offers business current accounts provided by Clear Bank to companies of all shapes and sizes, including freelancers, small and limited businesses and those scaling up. Tide helps to support small businesses by offering free business current accounts that you can then upgrade as your business grows.
Your Tide account will automatically tag your income and spending, with customisable labels to suit your company. You can upload receipts, auto-match them to transactions, and add a digital note if you wish. You can link to accountancy software like Xero, QuickBooks and Sage, and send, pay and track your invoices all in the app.
While a starter account is free, upgrading to £9.99 a month will get you one free expense card and 20 free transfers in and out per month. A 'Cashback' account, which costs £49.99 a month comes, with three free expense cards, 150 free transactions, and 0.5 per cent cash back on your Tide card.
The money in your Tide account is held in a secure ring-fenced account. This account is not used for any type of investments therefore your money is safe, and not used to invest in harmful industries.
---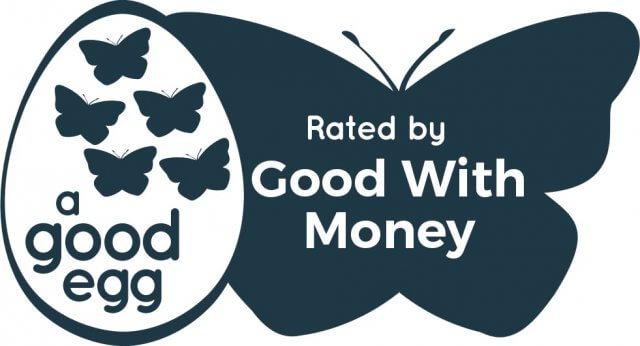 If you want to have a savings account, insurance policy, investment fund or mortgage from companies that do the right thing, check out our Good Eggs.
These are companies that have passed strict (independent) criteria to prove they make a positive impact – to the planet, society, and you. 
---