Positive impact investing that focuses on long-term trends will weather periods of market turbulence, says the new impact report from EQ Investors.
The Positive Impact report 2022 celebrates 10 years of the asset manager's Positive Impact portfolios, which aim to maximise both environmental and social impact as well as financial returns. They also actively engage to push for change towards a more sustainable world.
The portfolios are designed around the United Nations' Sustainable Development Goals (SDGs) to address the biggest challenges faced by humanity.
Sophie Kennedy, Joint Chief Executive of EQ Investors, says: "Because our mission-driven approach is anchored in long-term trends, we are confident that our strategy will continue to weather periods of market turbulence.
"We are extremely proud to celebrate 10 years of EQ Positive Impact this year – but we won't be resting on our laurels. We will continue to innovate, improve our standards and drive the financial system with us, holding those lacking intention to account."
The report outlines the environmental and social impact that £1 million held in the EQ Positive Impact Adventurous portfolio achieved in 2021. These include:
346 tonnes of CO2 avoided – the equivalent of taking 75 cars off the road.
37 tonnes of waste recycled – the equivalent of 37 households' waste.
245MWH of renewable energy generated – the equivalent of 74 homes' usage.
597 medical interventions made covering diagnostics, screens and treatments.
5,044 hours of school, further and adult education delivered.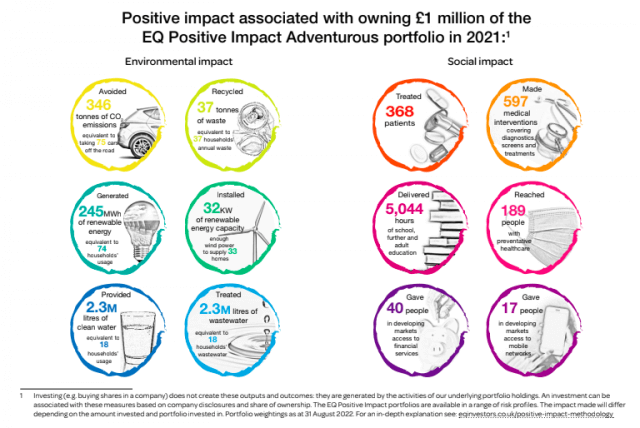 EQ Investors' new carbon calculator, launched this year, reveals how the Adventurous portfolio is responsible for around half the carbon intensity of the global equity index – a benchmark of global companies.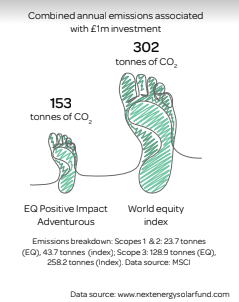 The report says: "Society's over-reliance on fossil fuels, coupled with the harmful effects of their use requires urgent action from many industries to preserve a habitable planet for our future generations.
EQ Positive Impact invests in businesses that are actively helping to reduce emissions through the production of renewable energy, green grids, electric transport, and technologies that improve energy efficiency."
The report also highlights how the asset manager measures its investments against the SDGs, with 80 per cent of holdings in the Adventurous portfolio contributing directly towards one or more of the goals.
A Good With Money 'Good Egg' and B Corp company, EQ Investors focuses its report on four themes – investing for the climate, natural capital, health and wellbeing and social inclusion – and gives examples of the companies it invests in that are working on long-term solutions in these areas.
The report says: "Our mission at EQ Investors is to connect capital to sustainable businesses by offering impact investing to everyone."
It comes as EQ Investors announces it has achieved the highest possible score of five stars in its latest PRI (Principles for Responsible Investment) assessment report. The PRI scoring evaluates how well a company implements responsible investment across its entire investment process, including a new focus on outcomes.