Here we look at Moneyhub – a money management app that helps you budget better by showing you all your accounts in one place.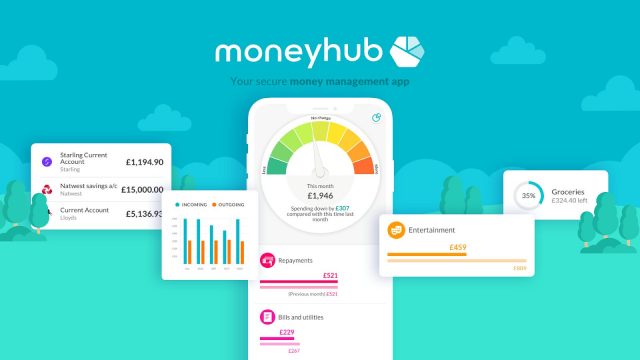 The deal
Moneyhub brings all of your financial information (accounts, investments, assets and borrowing) into one place so you can see where you are spending and on what, therefore helping you to budget better.
It's part of a new wave of money management apps that use Open Banking and Open Finance (where providers must share a customer's information if they ask it to).
User-friendliness
Moneyhub's main draw is that it's easy to use and saves you time and effort when it comes to handling your money. Rather than logging into separate accounts, and trying to keep track of your spending and saving across different providers manually, Moneyhub lets you view all of your finances instantly in one app.
Personalised graphs let you see exactly where you are spending and on what, making budgeting and reaching saving goals a lot easier.
Is it safe?
Yes, it is as safe as any bank. Moneyhub is regulated by the Financial Conduct Authority (FCA). It has bank level authentication and security and uses encryption technology. This means it doesn't actually store any of your login details such as passwords.
Moneyhub also enables you to make payments and move money between connected accounts through the app, but you are required to authenticate with your banking app during this process to ensure security.
Sustainable option
Moneyhub brings all of your existing financial accounts into one place, and therefore doesn't have its own sustainable option for your money.
When you refer friends and family to Moneyhub, trees will be planted on your behalf via its climate positive partner Ecologi.
Unique selling points
Accounts and assets.

Connect and view any number of accounts so you can see all of your finances in one place. 

Moneyhub currently connects to current accounts, credit cards, savings accounts, mortgages, properties (through Zoopla and Mouseprice), pensions and investments. You can also manually add assets that contribute to your net worth, but might not be part of an online banking institution.

Covers most providers.

Widest range of connections with financial providers in the UK. 

Spending analysis.

Graphs show you how much you're spending compared to previous months and where most of your money is going. You can also get a breakdown of your monthly spending in various categories and see how it compares to previous months.

Spending goals.

Moneyhub allows you to set budgets for your spending in different categories such as eating out or buying groceries. It will send you "nudges" telling you how you're doing on each budget. You can also set a custom pay period to align budgets to your pay cycle.

Connect to an existing financial adviser.

You can connect to your adviser through the app for advice on managing your money. 
The plus points
Reach money goals more easily.

Seeing all of your accounts in one place can help you to reach your budgeting and saving goals more quickly.

Categorised spending.

Smart technology shows you how much you are spending in various categories and lets you set budgets so you don't overdo it.

No data sharing.

Moneyhub will not share your data with third parties, although this does come at a cost – £1.49 a month or £14.99 a year (Moneyhub is offering six months free to new customers with no automatic renewal)

App or desktop.

Moneyhub is also available on desktop, while most of its competitors are app-only. The company has won several

awards

including Leading Digital Platform at the Schroders UK platform awards and Best Open Banking Provider at the AltFi awards 2022. 
Any drawbacks?
Fee.

Some consumers will be put off by the subscription fee (see below).

Financial adviser function requires you to have one.

The financial adviser connection feature relies on you having the adviser in place already, although you can scan the list to find one if you wish. 
Cost of use
Moneyhub charges a subscription fee of £1.49 per month or £14.99 per year and is currently offering six months free with no automatic renewal (so you won't get stuck with a recurring subscription if you don't want to continue).
Moneyhub says it charges for its services because it doesn't sell your data to third parties. While some of its rivals are free to use, they do have to make money somehow and this could be from selling your data on to make a profit. 
However, they may anonymise the data first which means you could not be identified in any way. It is always worth looking into what a provider does with your information and how comfortable you are with that compared with having to pay a subscription fee.
How do these costs compare to competitors?
Moneyhub's main competitors – Snoop, Emma, and Money Dashboard, are all free to use at the basic level. Instead of asking for a subscription fee they make money from commissions and providing anonymous data to market research companies.
Emma does offer a paid subscription service – Emma Pro – which give you a slightly more tailored service for £6.99 a month or £41.99 a year.
Snoop has also launched a paid-for service – Snoop Plus – with added features for £4.99 a month or £31.99 a year.
---
Top-rated ethical financial advisers
---
Good With Money occasionally uses affiliate links to providers or offers, where relevant. This means that if you open an account or buy a service after following the link, Good With Money is paid a small referral fee. We choose our affiliates carefully and in line with the overall mission of the site.