Accommodating urban growth is not just a space constraint problem in life, but one that extends to death. Here, Kavitha Ravikumar of positive impact investor WHEB reveals an innovative solution to the problem of grave shortages in urban areas.
---
"Death is not the opposite of life, but a part of it" – Haruki Murakami
In the Amazon series "Upload," set in the year 2033, humans can "upload" themselves into a virtual afterlife of their choosing.
Columbia University's DeathLab project imagines the "Sylvan Constellation," which transforms decomposing human bodies into pleasing light that illuminates woodland pathways and sanctuary spaces.
However, these ideas that tackle urban space issues are still in the realm of science fiction or speculative design. In the real world, cities are grappling with the challenge of finding space for housing. Accommodating urban growth is not just a space constraint problem in life, but one that extends to death.
As the world's population continues to urbanise and space becomes increasingly scarce, the question of where to bury the dead has become a pressing issue for many cities.
Space wanted: Dead or Alive
Current projections are that by 2050 the majority of countries will have more than 50 per cent of people living in urban areas, and as a total, this will account for 68 per cent of the world's population. It is partly for this reason that the United Nations identifies sustainable cities and communities as one of its 17 Sustainable Development Goals (SDGs).
In many cultures, there is a strong desire to maintain a deep connection between the dead and the living, giving rise to the need for spaces designated for burials, cremation and observances of practices that are not too far from the residence of the deceased. These requirements put pressure on planners and councils to plan for the dead, while accommodating the living
But perhaps urban land use is also a matter of efficiency, and one of WHEB's investments, Daifuku, is no stranger to it. Daifuku is providing a solution that uses its automated warehouse technology to solve the problem of grave shortages in urban areas. Why, one might ask?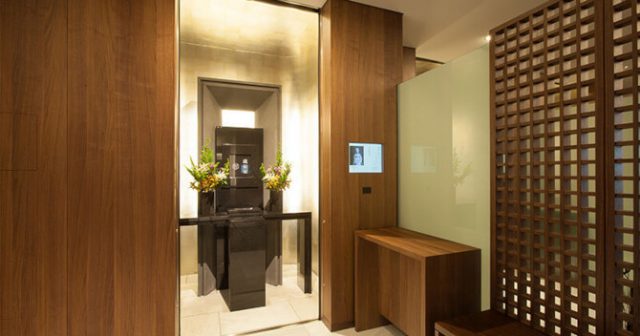 A mounting crisis in burial space
Cemeteries tend to present a planning problem; on the one hand, they are an essential piece of social and sacred infrastructure; on the other, they are often permanent. This requires them to be integrated within the urban fabric in such a way that they still work within the pressures of urban expansion, consolidation and shifting community values and expectations*.
Many countries have dealt with these constraints by changing how they traditionally use these spaces. For instance, in the UK, disused burial grounds and cemeteries have been converted into gardens and playgrounds.
In space-challenged countries like the UK, a quarter of people still choose to be buried. Councils are reportedly burying the dead beneath pathways, cutting down trees and buying up extra land or reopening existing graves to cope with a mounting crisis in burial space.
Cremation rates are, however, on the rise. A crematorium houses the cremation chamber and might have a place where ashes are kept in the cemetery. A columbarium, meanwhile, is a space where urns containing cremated remains are kept. The nooks in which urns are kept resemble openings of a dovecote. They can be a single wall in a mausoleum or an entire structure. There are several columbaria in the UK.
Vertical columbariums
Daifuku's automated columbarium uses vertical space to efficiently provide room for urns and aesthetically designed rooms for prayers within the limited land space of an urban area.
They are weatherproof, private, and enable greater access to older people and visitors with wheelchairs compared to outdoor cemeteries. The interiors can be aesthetically designed and incorporate additional technology where photos, videos and the deceased's wishes can be accessed digitally when paying respects.
As life becomes increasingly documented and lived through digital channels, it's not hard to imagine a future where death is sustained by technology. But until that day comes, cities will need to continue to find creative and sustainable ways to house death while also accommodating urban growth and preserving healthy living spaces.
* P.J. Davies, G. Bennett, Planning, provision and perpetuity of deathscapes—Past and future trends and the impact for city planners, Land Use Policy,Volume 55,2016
Find out more about WHEB in our Directory here.