This article is from the Good Guide to First-Time Investing, which you can download for free here.
---
The idea of investing your hard-earned money during a cost-of-living crisis can be a little nerve-wracking – especially if it's your first time. 
During challenging economic times, financial markets can be volatile as they have been recently, and many investors have seen some losses. 
Meanwhile, banks and building societies are advertising some of the best savings rates seen in decades. This might leave you wondering, 'Would I be better off saving my money rather than investing?' 
Look to history
It's worth remembering that the economy is cyclical. While investments aren't always predictable, history tells us that when the stock market falls, it is likely to bounce back. 
An easy access savings account is a good place to park some of your money – preferably three to six months of outgoings – to cover any emergency expenses. After that, as long as you are in it for the long run (at least five to 10 years), investing through a period of economic downturn can still be the best way to see your money grow. 
Savings are eroded by inflation
It might be tempting to ride out the cost-of-living crisis by keeping hold of your money in a savings account. But the longer you do this, the more likely you are to miss out on the long-term benefits of investing in the markets. 
While cash savings are of course less risky, the value of your money (its 'purchasing power') will almost certainly be eroded by inflation. In other words, you will be able to buy less with it in the years to come than you can now. 
The table below shows how cash loses value over time, according to the level of inflation – which recently has been very high (6.7 per cent in September 2023). Over 10 years at six per cent inflation, £1 would lose a hefty 46 per cent of its value.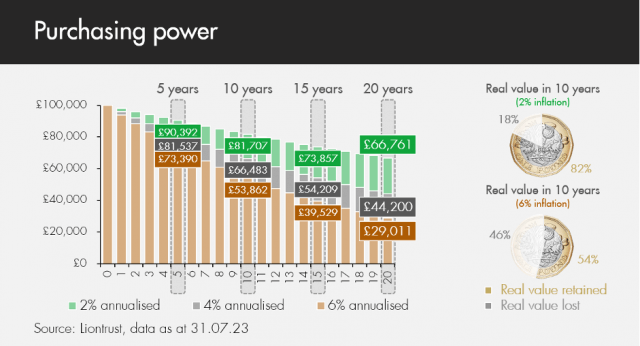 So, although a savings rate of four to five per cent might look enticing, anything below the rate of inflation means you will ultimately be losing money. 
Investments, meanwhile, have the potential to generate returns over the longer term that surpass inflation. This means that, although not guaranteed, your money can gain value over the longer term. 
Plus, when you're investing sustainably, you know that your money is being invested in long-term structural trends and contributing to a better future for you and for generations to come. 
The good news is that improving the world is not contradictory to making excellent returns: Liontrust's Sustainable Investment team believes the companies that will thrive are those that aim to improve our future environment, social well-being and health. 
---
Download the Good Guide to First-Time Investing
---
Diversify!
With investing, it's important to understand the risk you are taking. When compared to cash, you are effectively accepting more risk for the chance of getting more returns in the long run. The best antidote to risk is usually diversification. This means investing in a range of asset classes, such as equities (shares in a company) and bonds (a type of loan to a company or the government).
Equities tend to grow more in value but can also be more volatile. Bonds are seen as a safer bet but are also likely to bring lower returns. A good investment strategy, especially during a cost-of-living crisis, can be to have a mix of both in your portfolio. 
Investors should remember there is a trade-off between risk and return in the financial markets – the greater the risk involved in an asset, the greater the potential return. 
The table below shows how total returns from equities have outstripped inflation in most of the last 20 years.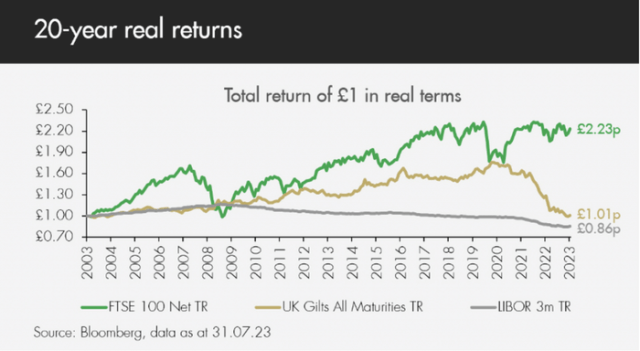 Keep your eye on the longer term
While stock market investments might not be performing as well as we'd want at the moment, it's certainly not the case that a savings account or an envelope of cash under your mattress is a better bet if you want to see your money grow in the long term. 
Risk warning: Past performance is not a guide to future performance. The value of an investment and the income generated from it can fall as well as rise and is not guaranteed. You may get back less than you originally invested.