Here we look at
GoHenry
– a pocket money app which offers an account for you, and linked accounts for your children with their own debit cards. 
The deal
GoHenry is a financial tool for children aged between six and 18, and for their parents.
Parents access their account through the GoHenry app and use it to top up their child's account. This can either be done manually or as a set amount on a given day of the week – no more forgetting or losing track of their pocket money! You can also set tasks for your child to complete to earn extra money, and set controls on their spending habits.
Children are given a GoHenry Visa prepaid card, which can be customised with their name and choice of picture. It can be used to make purchases in shops and online and to withdraw cash from ATMs. They can only spend the money that's on the card, so there's no danger of debt or overdrawn accounts. They can use the app to see their balance and the spending limits you've set for them.
There's a fun feature called 'Money Missions' that can help children to learn financial skills through videos, quizzes and games. As they unlock each mission, they'll make their way through national financial education guidelines – earning points and badges as they go to keep them motivated.
Launched in 2012, GoHenry now has more than two million members in the UK and US.
User-friendliness
GoHenry is a nice-looking app that will appeal to children so this is definitely a draw. After all, they're more likely to learn how to be good with money if it's fun.
Children can see what tasks they need to complete to earn pocket money, mark them off when complete, and set themselves savings goals. They can also see instantly how much they are spending, and where. It is easy to use for parents too, allowing them to load the card with money, set tasks to be completed and spending limits.
---
Use Good With Money PROMO code AFUKGWM2M to get TWO MONTHS FREE or
AFUKGWMCC for  ONE MONTH FREE plus a CUSTOM CARD
---
Is it safe?
GoHenry isn't a bank, so deposits are not protected by the Financial Services Compensation Scheme (FSCS). However, GoHenry cards are issued by IDT Financial Services, which is regulated by the Financial Conduct Authority (FCA). Its funds are held in NatWest segregated accounts, which means that even if something goes wrong with GoHenry, your money can't be touched.
The card is protected by a PIN and can be instantly blocked through the app if it gets lost or stolen. GoHenry blocks what it deems as "unsafe spending categories" and there is fingerprint and facial recognition.
Sustainable option
GoHenry recently made all its cards biodegradable 'Eco Card', following research that 76 per cent of UK children would prefer an eco-friendly bank card. The cards are made with compostable polylactic acid, which is derived from field corn waste. According to GoHenry, this uses 65 per cent less energy and 68 per cent fewer greenhouse gases than conventional plastic.
Kids can also choose a green Eco Card, which is made of 82 per cent bio-sourced renewable material (produced from field corn rather than fuel). On the first use of each card, GoHenry will plant a tree in partnership with the Eden Reforestation Projects.
Unique selling points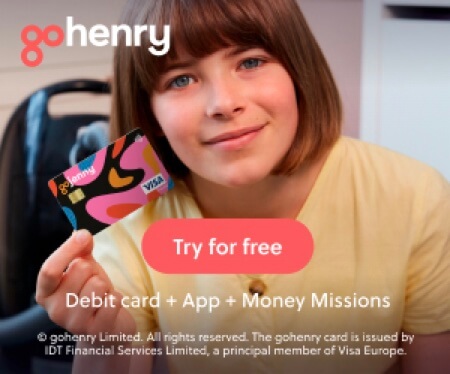 Money independence for children. GoHenry gives children a safe space to learn about money and occasionally, make mistakes. They can only spend money that is on the card (and in places allowed by parents) so they can't rack up debt or go overdrawn. They can have autonomy with their pocket money, with the option for parents to help out if needed.
Personalised card. Your children can create their own personalised card. As well as their name, they can choose form 45 plus pictures to have as a background, from football, pets or unicorns to gaming or superheroes.
Money missions. Children can watch videos, take quizzes, and earn points and badges while gaining valuable money skills. Missions cover money basics, investing, saving, compound interest, borrowing, and giving.
Add another parent/carer. Add a co-parent to your account to set boundaries, receive notifications and manage chores together.
The plus points
Full parental control. Parents can set spending limits they are comfortable with and get instant notifications for their child's spending. You can set up an automatic weekly or monthly pocket money amount or make one-off transfers, although these come with a fee (see below).
Spending limits. As well as setting amount limits, you can choose where the card can be used, and block or unblock it whenever you need to. You can tailor these limits for each child.
Free trial. Get a two-month free trial – with PROMO code AFUKGWM2M) – so you don't have to commit straight away.
Suitable for young children. GoHenry can be used by children as young as six.
Reward system. Parents can set tasks to help children earn money for completing jobs.
Safe limits. Children learn about personal finance in a controlled environment.
Sending money. Relatives can also send money to the children, making it easier for them to save Christmas or birthday gifts.
Good for families. Parents can manage up to four child accounts from the same parent account.
Saving goals. Children can set themselves 'saving goals' to automatically save a portion of their pocket money. They can also choose to donate an amount to the NSPCC.
Apple Pay. Children aged 13+ can can add GoHenry to Apple Pay on an iPhone so they can tap and pay in an instant.
Refer a friend rewards. If you refer a friend and they sign up, you'll both get £10 on your account.
Any drawbacks?
Monthly fee. The monthly fee isn't the most competitive, especially for families paying for multiple children. The fees to use the card abroad could make it an expensive option for use on holidays.
Top up fee. There is only one free top-up to the child account a month, then it's 50p each time. If like most parents you give your child pocket money each week, these fees can really add up – especially as a percentage of what you give.
Not a bank. GoHenry is safe, but not as safe and regulated as a bank.
No interest. GoHenry doesn't pay any interest on money in the account.
Cost of use
After a two-month free trial, GoHenry costs £2.99 per month for each child. This includes free payments and ATM withdrawals in the UK, plus one free load from the parent account to the child account each month (after that it's 50p each time).
There are also fees if the card is used abroad: a 2.75 per cent currency exchange fee on payments and £2 for each ATM withdrawal.
How do these costs compare to competitors?
GoHenry is not the cheapest option for this kind of product. There are similar services such as NatWest Rooster Money that come for a smaller monthly fee (£1.99) or Hyperjar which is free. Many traditional children's bank accounts are free.
Only one top-up to the child account a month is free, which isn't ideal when most children's pocket money is paid weekly and shorter-term rewards can be more enticing for them. On birthdays and at Christmas, you might want to add money to your child's account even more frequently.
However, GoHenry does allow free ATM withdrawals, which can be useful depending on how your child is likely to use the card.
Other options
Similar pocket money apps worth considering are:
---
Top 6 cool piggy banks for kids
---
If you'd like to find out more about goHenry and other providers, a Which? membership gives you access to in-depth, expert reviews, 'Best Buys' and 'Don't Buys' so you can buy with confidence and make quicker, more informed decisions.
Good With Money occasionally uses affiliate links to providers or offers, where relevant. This means that if you open an account or buy a service after following the link, Good With Money is paid a small referral fee. We choose our affiliates carefully and in line with the overall mission of the site.