The last decade has seen massive progress in community financing projects to pay for infrastructure such as broadband internet, green energy and local enterprise. This shift is creating the opportunity for communities to benefit from better, more ethical infrastructure – while making a profit from it too.
Here, we round up some of the most successful crowdfunding campaigns for community infrastructure.
Broadband for rural communities
Broadband for the Rural North (BA4N) is a broadband provider that uses the power of community engagement to install its network in areas that commercial operators deem too expensive. Insufficient and slow broadband is a major issue in rural UK communities, especially where livelihoods depend on operating effectively online.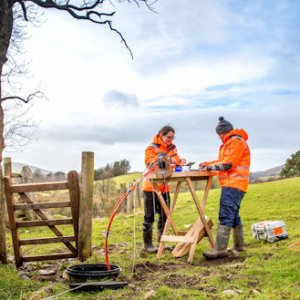 Since it was founded in 2011, BA4N has connected around 5,000 properties to its own network of over 3,000km of fibre-optic cables. Founder Barry Forde told Good With Money: "We are a community business owned by our 2,500 members. Our community approach is the key to our success as we can install a state-of-the-art network for much lower cost than commercial providers."
Demand for its service is now so high, BA4N has launched a crowdfunding campaign with ethical bank Triodos to raise £3 million. The funds will be used to help quadruple its network by 2023. The raise is off to a good start, meeting its target of £1 million ahead of its first close.
"This investment will help to ensure rural UK communities are no longer the poor relation when it comes to broadband," says Forde.
The majority of the network to date has been funded by local residents investing over £5 million in shares in the company. Shareholders receive 5 per cent interest per year after three years, and, if they buy stock worth more than £1,500, their £150 connection fee is waived.
B4RN's profits are reinvested back into the community in a variety of ways, such as providing internet to schools in its network free of charge. B4RN bonds are eligible to be held in a Triodos Innovative Finance ISA (IFISA).
Community-owned wind farms
Ripple Energy aims to put wind power in the hands of the people while giving them cheap, reliable energy at a stable price. The UK-startup gives consumers the chance to bypass the high tariffs of big suppliers by directly funding cheap, clean, renewable energy that is generated locally.
Investors can put in around £1,300 for a stake in a new onshore wind farm, which is the amount Ripple says will pay for the energy needed in an average home. The wind-powered electricity remains at a low price which is stable for the entire 25-year lifespan of a wind farm. This way investors avoid fluctuating bills that are linked to global energy markets.
Founder Sarah Merrick said: "People love wind power, but it's not that easy for them to get it." While there are green energy tariffs, they currently serve mostly to reallocate existing renewable supply amongst different customers. By contrast, Ripple sources new money to promote the construction of extra wind capacity.
Ripple is currently crowdfunding to support its growth as it works towards its first project – a single wind turbine that will supply around 800 homes.
After two weeks, Ripple has already raised £496,000 of its £750,000 target. The funds will enable Ripple to complete the development of its clean energy ownership platform and market its first pilot project later this year.
Securing social enterprise
Bristol Wood Recycling Project is a successful social enterprise that collects, repurposes, and sells wood that would otherwise go to waste – helping to benefit both the community and the environment.
Last year it was staving off closure when its rented premises in Bristol, Gloucestershire, was scheduled for demolition and redevelopment.
The local community stepped in to save BWRP by raising more than £430,000 in a bond offer through the Triodos crowdfunding platform. Not only did they help buy BWRP's home, securing it for the local community and future generations, they benefit from receiving 4 per cent interest per year on their investment.
BWRP, which has a team of around 40 dedicated volunteers, has saved over 500 tonnes of wood from landfill every year. It also offers an inclusive, sociable and practical work environment. Many volunteers have experienced long-term unemployment, substance abuse problems or mental health issues and can gain the work and social skills needed to improve their lives.