Statistics show that you're more likely to get divorced than you are to change your current account, but thanks to the Current Account Switching Service it is easier than ever to go somewhere new.
The five providers below rank highly on the ethical stakes.
In 2017, ethical bank Triodos launched a current account in line with its values, which includes a biodegradable contactless card made from renewable resources like plant leaves and corn. Triodos believes that banks should be an active source for good and will lend your money to organisations committed to making a positive social, environmental or cultural impact.
The bank is charging £3 a month for the account, but has lower overdraft charges than rivals (a flat 18 per cent). This is notable at a time when many traditional banks are raising their overdraft fees once again after giving customers a temporary reprieve during the first wave of the coronavirus crisis.
It's mobile banking app also allows you to monitor your balance and spending, including alerting you when you're down to your last £100; when you have insufficient funds to make a payment and can help keep track of your daily card use at home and abroad.
Triodos rates highly for customer service, clinching the Customer Service Champion award at the British Bank Awards 2020.
It was granted a UK banking license in 2019, so current account holders assets are protected under Financial Services Compensation Scheme (FSCS), which covers up to £85,000 per person.
Britain's biggest mutual offers a competitive package for those who switch their current accounts.
Although its FlexPlus account (£13 per month) has stopped offering interest on balances up to £2,500, it does have an attractive free insurance offer. If you are using the account for its free insurance (the travel, mobile and breakdown insurance could be worth more than £500 a year in total), it is very competitively priced.
It's worth noting however, that from 1 January 2021 you'll no longer be covered for cancelling your trip due to Covid 19 or a pandemic, before you travel, unless it is for medical reasons.
Nationwide has currently "paused" its refer a friend scheme – which would have seen you share £200 for the switch if you are referred – due to the coronavirus crisis. The building society says it hopes to have the scheme up and running again in the future.
Sign up to our weekly newsletter
Get better with money, in every way.
Co-operative Bank took a huge hit to its ethical reputation with its 'crystal methodist scandal' in 2013 filled by its sale to US hedge funds. However, it is still the biggest mainstream ethical bank in the UK and remains a good choice when comparing it to the likes of Barclays et al. It adheres to a strict "customer-led" ethical policy that is independently audited each year.
The Co-op offers a fairly straightforward current account with fixed overdraft fees for both arranged and unarranged borrowing (35.9 per cent annual interest rate).
There's no interest on credit balances, but you will receive up to £5 a month if you sign up to its Everyday Rewards scheme, which pays out for paying in a minimum of £800 each month, staying in credit and paying out direct debits. You can also choose to donate this straight to a charity of your choice.
For those who want to support local credit unions, the Engage current account acts like a bank account, but is run by credit unions, supporting local communities and those who might otherwise be unable to open a bank account. There are some fees on the account, which includes charges for cash withdrawals (75 pence on the classic account) and international purchases (£1 plus 2 per cent of the transaction). There is also no overdraft facility, which reflects its responsible lending policy.
The scheme does offer cashback on spending with supported partners, however, including Marks and Spencer, Argos, Pizza Express, Debenhams, New Look and B&Q. While funds are segregated, they aren't part of the UK compensation scheme. 
The UK's biggest challenger bank, Metro, lacks the legacy issues of its bigger rivals and so is often scored highly by ethical ratings agencies. This is supported by transparent charging structures – including offering a single rate for all personal loans – and responsible lending practices. The current account offers no interest, but is great for those using debit cards abroad, with low fees around the world and none in Europe. The bank is highly rated for technology and ease of use (it can print your debit card for you in-store), and is also pet friendly, if free dog biscuits are your thing.
---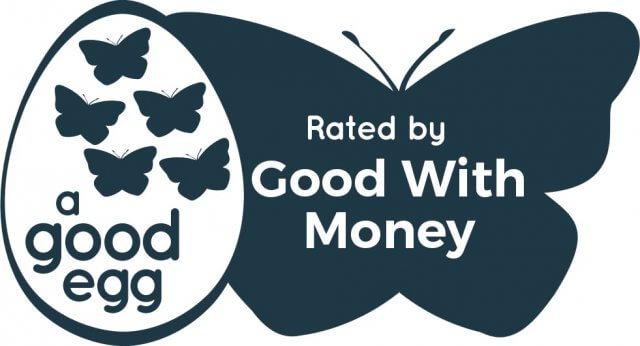 If you want to have a savings account, insurance policy, investment fund or mortgage from companies that do the right thing, check out our Good Eggs.
These are companies that have passed strict (independent) criteria to prove they make a positive impact – to the planet, society, and you. 
---