An Individual Savings Account (ISA) is a type of investment (or cash savings account if you are going for the cash version) that shelters your returns from tax. With a stocks and shares ISA, you choose investments to hold in your ISA.
The great news is that many DIY investment platforms now offer 'green' options for stocks and shares ISAs. These pool investors' money together to put into companies and projects that are working to solve the world's most urgent problems and build a cleaner, more sustainable world. It means you can actively choose investments that are targeted to help with the issues you care about most.
You can invest up to £20,000 into an ISA each tax year, or up to £9,000 into a Junior ISA (JISA) on behalf of a child aged under 18. You can choose to use all of your allowance in a stocks and shares ISA or share it between different types, such as cash or Innovative Finance ISAs.
To get started, simply open an account online with the platform provider you want to invest with. Then choose the funds you want to put into your ISA.
Here are nine platforms on which you can go green with your stocks and shares ISA (in alphabetical order):
Annual fee: 0.25 per cent capped at £3.50 per month (up to £250,000 invested, then at decreasing rates)
Minimum investment: £25 per month
The AJ Bell platform is relatively easy to navigate and has some nice guides and articles. Within its large range of funds you'll find a good selection of sustainable options. It currently has six ethical funds in its 'favourite funds' list, which is hand-picked by experts as being most likely to bring you a steady profit. As well as a Stocks and Shares ISA, AJ Bell offers a Self-Invested Pension (SIPP), Junior ISA, Lifetime ISA and Dealing Account.
Annual fee: 0.25 per cent
Minimum investment: £25 per month or £100 lump sum
The Big Exchange, co-founded by The Big Issue, is an online investment platform which only lists funds that are proven to be making a positive difference to the planet and its people.
Its ever-growing list of investment funds are all rated against the United Nations Sustainable Development Goals, or "Global Goals", for the type and level of positive impact they're making to people and planet. Each one is awarded a gold, silver or bronze medal, with gold having the highest ability to bring about positive change. You can choose funds that tackle the issues you care about most. You can invest on The Big Exchange from £25 a month or a lump sum of £100.
Annual fee: 0.45 per cent
Minimum investment: £25 per month or £100 lump sum
Hargreaves Lansdown, or HL, is a stalwart brand and the biggest DIY platform in the UK for personal investors.
HL is beginning to make sustainable investment a bigger part of its offering, relaunching its Wealth Shortlist in June 2020 to include responsible funds for the first time. The list is made up of funds chosen by experts as having the greatest potential to financially outperform their peers over the long term.
There are currently 10 funds in the 'Responsible Funds' category, which include the Liontrust SF Corporate Bond, Aegon Ethical Equity, BNY Mellon Sustainable Real Return, Janus Henderson UK Responsible Income, Troy Trojan Ethical Income (Class X), and Legal & General Future World ESG Developed Index. HL has produced its own guide to ESG investing.
Annual fee: £9.99 per month. You can invest up to £30,000 for £4.99 per month with the new 'Investor Essentials' package.
Minimum investment: £25 per month or any lump sum
Interactive Investor (ii) stands out for its flat fees, but whether this is good value for you personally will depend on how much you are investing in your ISA. ii recently launched an 'Investors Essentials' package at £4.99 per month for those investing £30,000 or less.
The ii site is clear and simple and boasts the "ACE 40", which it says is the UK's first rated list of ethical investments offering "a filtered selection of collective investment vehicles for all investors, new or experienced". ACE stands for "Avoids Considers Embraces." We all have different priorities – avoiding fossil fuels, strong corporate governance, treating workers fairly, avoiding tobacco – and the excellent tools on the ii platform will help pinpoint what you are looking for.
Annual fee: 0.4 per cent
Minimum investment: £250
Triodos Bank, a pioneer in sustainable finance, offers three impact investment funds for you to invest in through its Ethical Stocks and Shares ISA – the Triodos Global Equities Impact Fund, Triodos Pioneer Impact Fund and the Triodos Sterling Bond Impact Fund.
Find out more about Good With Money 'Good Egg' company Triodos here.
Best apps:
Annual fee: £1 per month plus 0.45 per cent 
Minimum investment: £5 per month
CIRCA5000 is a mobile-only app that allows you to invest in companies that are aiming to solve social and environmental issues around the world. It is designed to make investing easy and accessible to everyone, including those with zero experience of investing.
You can invest in companies across five thematic investment funds, each solving global challenges. These are: Green Energy & Technology, Sustainable Food & Biodiversity, Clean Water & Waste, Social & Economic Empowerment and Health & Wellbeing.
---
Get £5 to invest in CIRCA5000 by signing up here
---
Annual fee: 0.10 per cent. There is also a £1 per month platform fee, plus where applicable, a 0.75 percent transaction fee on foreign shares and an ETF provider fee of 0.07 to 0.75 per cent based on the fund (with a Stocks and Shares ISA).
Minimum investment: £10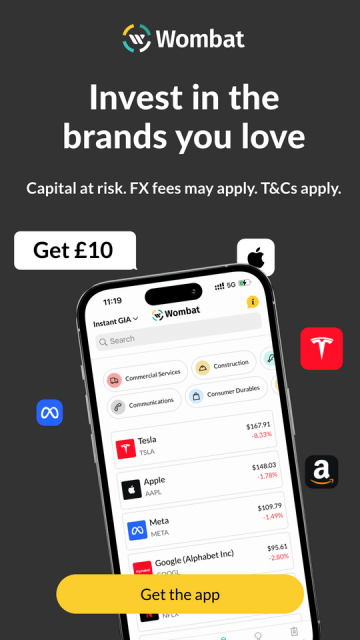 Mobile investing app Wombat Invest enables you to invest in UK, EU and US companies through fractional shares (where you can buy less than one share in a company) and themed ETFs.
You can start investing with just £10, set up auto invest to deposit and invest money on a monthly basis, or round up your everyday purchases and invest the spare change.
Wombat offers 30+ ETFs, including seven ethical funds. These include The Future of Food, which invests into 11 companies that are "innovating to create a more sustainable, safe and fair food system for the planet" and Women in Power, which focuses on companies "leading the field in gender equality, from having women in power, to equal pay, and a strong gender balance in the workplace".
Several of Wombat's ethical funds are managed by BlackRock, which has come under fire recently for rolling back on its sustainability commitments and being "pretty loose" in its definition of ethical investment. BlackRock is, at least, transparent about what it invests in so you can make your own mind up. 
Capital at risk. T&Cs apply.
---
Get £10 to invest with Wombat Invest by signing up here
---
Risk warning: Remember that investments go up and down in value, and you could lose money as well as make it. How you're taxed will depend on your circumstances, and ISA and tax rules can change.

Good With Money occasionally uses affiliate links to providers or offers, where relevant. This means that if you open an account or buy a service after following the link, Good With Money is paid a small referral fee. We choose our affiliates carefully and in line with the overall mission of the site.