It can be easy to forget that where we keep our money has consequences far beyond our own saving and spending potential.
Research shows that the UK's 'Big Five' banks – HSBC, Barclays, Santander, NatWest and Lloyds – are still pumping BILLIONS into fossil fuel projects. This is despite them having made net zero pledges.
A campaign from Make My Money Matter reveals that in 2022 alone, these banks provided almost $37 billion (£29.4 billion) in finance to the 50 largest oil and gas companies that were expanding production.
Meanwhile, ethical banks and building societies avoid investing in environmentally harmful or otherwise unethical industries. A minority – such as Triodos Bank – go much further by investing your money to make a positive impact on the planet and society.
One of the most significant things you can do as an individual to fight climate change and help create a better, safer, more sustainable world is to move your money to a provider that shares your ethical values.
The Current Account Switching Service takes care of transferring all your direct debits to your new account and closing your old one, so it's easier than ever to move your money for Good.
These seven providers rank highly on the ethical stakes.
Triodos Bank, a B-Corp company, sits firmly at the top of our list of ethical current accounts. Founded in 1980, Triodos champions a new way to do finance that's good for people and planet. It believes that banks should be an active source for good and will only lend your money to organisations that are committed to making a positive social, environmental or cultural impact.
Sectors Triodos invests in include renewable energy, sustainable farming, education, charities and social housing. You won't find it investing in fossil fuels or other destructive industries such as fast fashion, weapons, tobacco or deforestation.
The bank publishes a map with details of each investment it makes on its website in the name of total transparency.
---
Find out why Triodos is a Good With Money 'Good Egg' company
---
The Triodos mobile banking app allows you to monitor your balance and spending, including alerting you when you're down to your last £100; when you have insufficient funds to make a payment and can help keep track of your daily card use at home and abroad.
It also has a biodegradable contactless card made from renewable resources like plant leaves and corn.
Triodos was granted a UK banking license in 2019, so current account holders' assets are protected under Financial Services Compensation Scheme (FSCS), which covers up to £85,000 per person.
Triodos has achieved 'Best Buy' status for its personal current accounts from Ethical Consumer magazine – the only bank to do so – alongside joint Best Buy status for its savings accounts. It is also a Which? 'Eco provider'.
There is a £3 monthly for its current account, and a competitive 18 per cent (variable) interest rate on an agreed overdraft up to a maximum of £2,000.
As Britain's biggest mutual, Nationwide says "the fact that we are owned by our members and run for their benefit, makes us fundamentally different from our big competitors."
The building society – another Which? 'Eco Provider' – continues to offer a competitive package for those looking to switch their current account. Its FlexPlus current account comes with a £13 per month fee, but if you make use of the free insurance that comes with it (the travel, mobile and Europe-wide breakdown insurance could be worth more than £500 a year in total) it's an attractive option. Having a FlexPlus current account also gives you access to exclusive savings rates for Nationwide members.
Nationwide also offers a FlexDirect current account, which has no monthly fee and comes with an attractive five per cent (AER) interest on balances for the first 12 months on balances up to £1,500 before reducing to 0.25 per cent (AER). To qualify for this account, you must pay in at least £1,000 per month. You'll pay no overdraft interest for the first 12 months, followed by a steep 39.9 per cent (as with all its current accounts) so it pays to stay in credit.
Nationwide is currently offer £200 to current account customers using the Current Account Switch Service. Current account customers can also take out a Flex Regular Saver account paying eight per cent interest/AER. 
The Cumberland is a building society based in Cumbria. It offers current accounts, as well as mortgages and savings accounts, to customers living in Cumbria, South West Scotland, West Northumberland and North Lancashire.
It does not invest its members' money in stocks and shares, so many of the issues normally associated with ethical investment do not apply to it. Its Kinder Kind of Kitchens initiative, in partnership with Fareshare Lancashire and Cumbria, supports people across Cumbria and Lancashire to overcome food poverty.
The Cumberland Plus Current Account has no monthly fee and the interest on an arranged overdraft is 14.99 per cent, which is low compared to its competitors. To be eligible, you must pay at least £750 per month into your account (you will be charged £2 per month if you don't meet this). Note that you will only be considered for an arranged overdraft once your account has been active for at least six months.
Cumberland also offers a Freedom Apprentice Current Account, designed for young people on apprentice schemes, and a Day2Day Account, which has has no overdraft facility and no amount of funding required for younger people.
The Engage current account acts like a bank account, but is run by credit unions, supporting local communities and those who might otherwise be unable to open a bank account. It is free to open for anyone over the age of 16. There are some fees on the account, which include a "monthly maintenance fee" of £2, charges for cash withdrawals (75 pence on the classic account) and international purchases (£1 plus 2 per cent of the transaction). There is also no overdraft facility, which reflects its responsible lending policy.
The scheme offers cashback on spending with supported partners, including Marks and Spencer, Argos, Pizza Express, Debenhams, New Look and B&Q. The 'Engage Cashback Calculator' shows you how much you can earn when you shop using your Engage card.
While your funds are ring-fenced, they aren't part of the UK compensation scheme. 
Engage's 'virtual savings envelopes' feature can help you budget for things like utility bills, rent or mortgage, council tax or big purchases. When your payments are due, Engage will automatically pay them by standing order or direct debit, or release your saved funds back into your account to spend by debit card or to withdraw cash.
---
The ABCs of ISAs – a Good Guide
---
Another app-based bank, Monzo says it takes pride in being a socially responsible business. It invests its customer deposits "safely and ethically", does not engage in any artificial tax planning, and we has "a zero tolerance approach to modern slavery and human trafficking".
Monzo is transparent about where it invests customers' money. The majority of deposits are held at central banks. It says: "Our investments are only in safe, high quality government bonds and quasi-government bonds (such as development banks)".
It does not invest in fossil-fuel based energy companies, arms companies or tobacco companies. Monzo lends out a proportion of deposits (currently 3.5 per cent of) in the form of unsecured personal overdrafts and loans.
As a branchless, digital bank, Monzo has a relatively low carbon footprint. It has a goal of reaching net zero carbon emissions by 2030. Monzo offers overdrafts up to £2,000 for eligible customers. As well as a free current account, there are Monzo Plus and Monzo Premium options which offer additional features.
However, it is worth noting that Monzo has partnered with other financial providers such as Investec and Shawbrook Bank – which have poor ethical ratings from Ethical Consumer Magazine – to offer savings accounts. Monzo has also been criticised for excessive remuneration of directors or other staff. In 2023, its highest paid director received a total of £2,637 million, £2 million of which was in the form of share-based payments.
App-based bank Starling says it expressly avoids funding fossil fuels, mining, arms and military, and instead invests in "government securities and other high quality liquid assets". It is also a founding member of the TechZero taskforce, a small group of UK tech companies working towards net zero emissions.
Starling also says: "We will not do anything in our tax affairs that runs contrary to either the letter or spirit of tax legislation in the UK and any other country in which we are liable for tax."
However, it is worth noting that despite its longstanding opposition to fossil fuels, in March 2021 Starling accepted funding from Qatar's sovereign wealth fund. The fund was set up in 2005 to invest Qatar's substantial oil and natural gas revenues around the world.
A spokesman for Starling Bank said that "one of the key roles of QIA is to reduce Qatar's dependence on revenues derived from oil and gas and to expand investment into non-hydrocarbon sectors. That's one reason why it has been investing in a range of well-known British brands in addition to Starling."
In April 2022, Starling raised £130.5 million from previous backers, including Goldman Sachs Growth Equity and the Qatar Investment Authority to build an "acquisitions war chest."
Since Starling is a paperless, branchless bank, its carbon footprint is significantly lower than some of its competitors. It uses renewable energy to power its four offices and its debit card is made from recycled PVC plastic. Starling will plant a tree for every friend you refer – so far it says it's planted 60,000 trees.
There are no monthly fees and arranged overdraft interest is charged at 15 per cent, 25 per cent and 35 per cent EAR (variable) based on factors such as your credit rating.
---
Read our full review of Starling Bank 
---
The Co-operative Bank has had an ethical policy since 1992, meaning it doesn't lend to companies that don't fit with its values, so it doesn't do business with the oil, coal or gas industries.
The bank's standard current account is free and you can earn up to £2.20 a month in rewards. If you are looking for extras alongside your current account then its Everyday Extra account is a good choice. In return for £15 a month you'll get mobile phone insurance, worldwide travel insurance and UK & European breakdown cover. Just make sure you aren't doubling up on insurance you already have elsewhere.
The Co-operative is another 'Eco-provider' with Which? – it was applauded for its "high ethical standards for the businesses it offers services and finance to, most of which are small and medium-sized".
However, it is worth noting that in 2010s, the Co-operative Bank got itself into deep financial trouble. This led to it becoming fully owned by private equity, including hedge funds. Hedge funds don't have a great reputation – they often use tax havens and are lightly regulated with limited transparency.
If you refer a friend to The Co-operative Bank, you will each receive £125 once they sign up.
---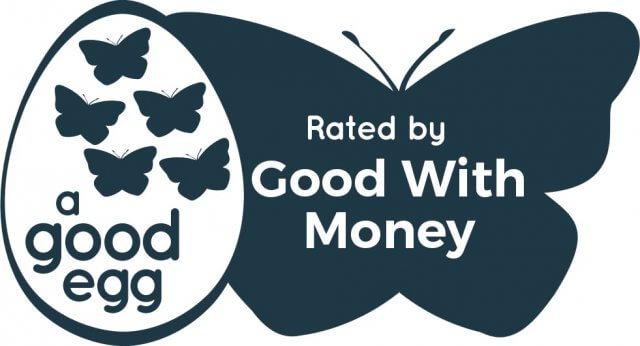 If you want to have a savings account, insurance policy, investment fund or mortgage from companies that do the right thing, check out our Good Eggs.
These are companies that have passed strict (independent) criteria to prove they make a positive impact – to the planet, society, and you. 
---

If you'd like to find out more about the above providers, a Which? membership gives you access to in-depth, expert reviews, 'Best Buys' and 'Don't Buys.'

Good With Money occasionally uses affiliate links to providers or offers, where relevant. This means that if you open an account or buy a service after following the link, Good With Money is paid a small referral fee. We choose our affiliates carefully and in line with the overall mission of the site.