As world leaders meet for crunch climate talks at COP27 this week and next, it could be easy to feel like only politicians and big business have the power to make any significant impact on climate change.
The truth is, where you put YOUR money counts.
Actively choosing financial providers that are making a proven positive impact on the planet instead of investing in destructive industries like fossil fuels is the single most important action you can take against climate change.
But with so many companies now claiming to be "green," "sustainable," or "ethical," who can you trust with your money?
To help cut through growing consumer confusion in sustainable finance, we created the Good Egg mark – it's the only accreditation in the UK designed to make it easier to find providers that use finance to benefit people and planet, as well as offering a good deal for their customers.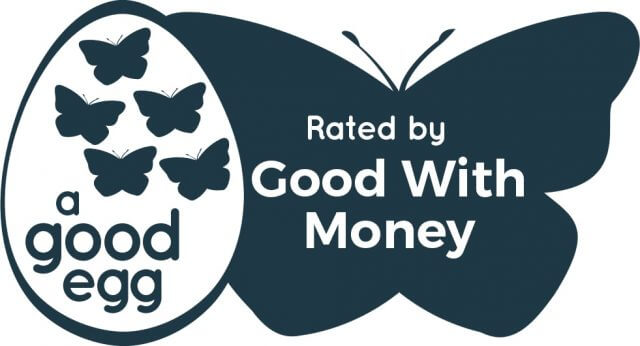 Here are our 10 Good Egg firms, and what makes them so Good:
Triodos Bank
Triodos Bank, which offers banking and investment services, is a true pioneer in sustainable, responsible and ethical banking. Customers' money is only lent to businesses and organisations bringing about positive social, environmental and cultural change.
What's the impact?
Triodos says: "Our banking and financial services are for individuals and organisations who want to change the world for the better. As one of the world's most sustainable banks, we have over 740,000 customers who are already playing their part in our positive movement."
PensionBee
PensionBee is an online platform that helps customers take control of their retirement by combining their existing pension pots into one new plan. Its Fossil Fuel Free Plan is one of the UK's first mainstream private pension plans to completely exclude companies with proven or probable reserves in oil, gas or coal.
What's the impact?
PensionBee says: "At PensionBee, we see our role as critical in building the future we want to see, so that our customers can look forward to a happy retirement. We champion sustainable investing as the future of engagement in pensions, and wholeheartedly believe that everyone should have the option to use their investment for good – transforming the planet, society and their retirement for the better."
The Big Exchange
The Big Exchange, co-founded by The Big Issue, is an online sustainable investment platform which only lists funds that are proven to be making a positive difference to the planet and its people.
What's the impact?
The Big Exchange says: "By providing better access to funds and explaining what they are trying to do, improving transparency and showing people what is actually under the bonnet, speaking in as plain English as possible, and by telling people the extent to which investments are really "walking-the-talk" we have created a more open, accessible, and transparent way to invest."
Thrive Renewables
Thrive Renewables invests directly in clean energy projects. It issues bonds and/or shares to raise money to construct new renewable energy projects.
What's the impact?
Thrive Renewables says: "We believe in a clean, smart energy system that is powered by the investment of many. Our mission is to power the transition to a sustainable energy future by helping people meaningfully connect with clean energy projects."
Pennine Wealth Solutions
Pennine is one of only a handful of wealth managers in the UK offering positive impact portfolios. Its Positive Pennine Portfolios are designed to help meet the United Nations Sustainable Development Goals.
What's the impact?
Pennine Wealth Solutions says: "We have always been committed to researching sustainable and responsible investments and looking for an investment solution. In August 2016, after many years of hard work, we launched the ground-breaking Positive Pennine range of Portfolios. These are impact investments with the combination of sustainability and performance as their core."
Path Financial
Path Financial offers a range of financial advice and wealth management services as well as positive impact investment options.
What's the impact?
Path Financial says: "We show people the path to financial security and freedom with sensible down-to-earth planning. All the while, our client funds are invested in a way which is positive and sustainable for people and planet as well as providing superior investment returns."
BlueSphere Wealth
BlueSphere Wealth is a certified financial adviser. It helps to support its clients to invest their money into companies that are creating a positive impact.
What's the impact?
BlueSphere Wealth says: We are passionate about helping people and planet. We do this by matching our clients' values to their investments. Whilst building a strong financial foundation for our clients, we can build a better future for our planet at the same time."
EQ Investors
EQ Investors is a financial planner and wealth manager. It offers financial advice, planning and investments such as ISAs and SIPPs, pensions and impact investments. It offers a low-cost way to invest in positive impact funds and businesses through its Positive Impact Portfolios.
What's the impact?
EQ Investors says: "We only ever invest in sustainable ways so that you can be confident that your money is having a positive impact on the world as well as generating a good return."
Ecology Building Society
Ecology Building Society is dedicated to building a greener society by providing mortgages for properties and projects that respect the environment and support sustainable communities, funded through its range of simple, transparent savings accounts.
What's the impact?
Ecology Building Society says: "Our impact isn't about the profit we make – it's about the difference we make to the environment and to communities across the UK. Since 1981 we've lent to over 3,500 projects, supporting individuals, charities, environmental businesses and community-led housing organisations to realise their sustainable living ambitions."
Abundance Investment
Abundance Investment offers a crowdfunding platform for peer-to-peer investments in renewable energy.
What's the impact?
Abundance Investment says: "Our mission is to help everyone mobilise their money for good. We let you put your money to work to fund the infrastructure we need to tackle the climate emergency and create a fairer, greener future for us all."
Find out more about how we assess the positive impact of our Good Egg companies here.
---
For your complete guide to the best ethical and sustainable investment funds available to UK investors, see the latest Good Investment Review, produced in partnership with Square Mile Research and The Big Exchange. 
---